Search CrazyAboutTV for your
favorite show or your
favorite star!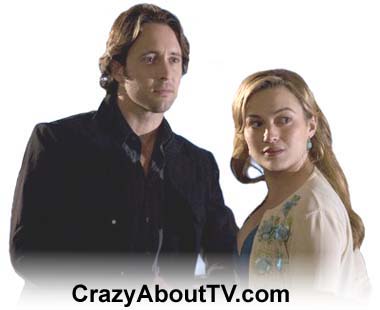 Series Description
The Moonlight TV show was a 60 minute fantasy series on CBS about private investigator who also happened to be an immortal vampire. He lived a mostly normal life, drinking blood procured from blood banks rather than feeding on live humans. He was not the only vampire living in relative obscurity but there were also some vampires who refused to give up fresh blood and their actions threatened to expose the others. There was also a love affair that developed between the private investigator vampire and a beautiful human woman.
Moonlight Cast
Alex O'Loughlin .... Mick St. John
Sophia Myles .... Beth Turner
Jason Dohring .... Josef Kostan
Tami Roman .... Maureen "Mo" Williams
Brian J. White .... Lieutenant Carl Davis
Jordan Belfi .... Josh Lindsey
Shannyn Sossamon .... Coraline
Moonlight Trivia
A pilot episode of the Moonlight TV show was produced in order to sell the series but it was not broadcast.
The Moonlight TV show was based on a book by series creator, "Trevor Munson". At last check, the book was available to read on his MySpace page!
There was a writers' strike in early 2008 that stopped production of Moonlight and many other series during the 2007-2008 season. This contributed to the demise of many shows that may have survived without the strike. Many viewers that liked those series missed the remaining episodes that aired after the multi-month strike ended.
Alex O'Loughlin did a lot of his own stunts on Moonlight. Immediately before this series began, Alex appeared on seven episodes of "The Shield". After Moonlight ended he quickly landed the starring role on the series, "Three Rivers" but that one also lasted a mere 13 episodes. Then he nearly immediately was cast in the starring role on the 2010 remake of the 1968-1980 series, "Hawaii Five-0".
Sophia Myles (Beth Turner) pulled a big "no no" in show business when she cut her hair dramatically during the writers' strike. Generally, networks don't want their stars to change anything about their appearance without approval that typically depends on the change "fiting" the plot of the show. Sophia solved the problem by wearing a wig underneath her short hair to make it appear the same length as before the strike.
Beth Turner was saved by Mick St. John as a child and he watched over her as she grew up. Ironically, in 2006 Sophia Myles portrayed another character on a "Doctor Who" episode titled, "The Girl in the Fireplace" who was saved by the Doctor as a child and was watched over by him while growing up!
Alex O'Loughlin (Mick St. John) is Australian and had to lose his accent to speak "American" on the show.
The character "Beth Turner" got her last name as a joke as a reference to the question posed on the show as to whether or not Mick St. John should "Turn Her" (into a vampire).
In order to make it possible for Moonlight's vampires to blend into human society, their fangs were retractable and only showed when the vampires fed, were angry, or were tempted to feed.
Episodes List With Original Air Dates
Moonlight - The First and Only Season
No Such Thing As Vampires (9/28/2007)
Out of the Past (10/5/2007)
Dr. Feelgood (10/12/2007)
Fever (10/19/2007)
Arrested Development (10/26/2007)
B.C. (11/2/2007)
The Ringer (11/9/2007)
12:04 AM (11/16/2007)
Fleur de Lis (11/23/2007)
Sleeping Beauty (12/14/2007)
Love Lasts Forever (1/11/2008)
The Mortal Cure (1/18/2008)
Fated to Pretend (4/25/2008)
Click (5/2/2008)
What's Left Behind (5/9/2008)
Sonata (5/16/2008)
Find Thousands of
Your Favorite
Shows

By Starting Letter
A B C D E F G
H I J K L M N
O P Q R S T U
V W X Y Z
Thank you for visiting our Moonlight TV show page!
Copyright © 1997-Present CrazyAboutTV.com
All rights reserved