Search CrazyAboutTV for your
favorite show or your
favorite star!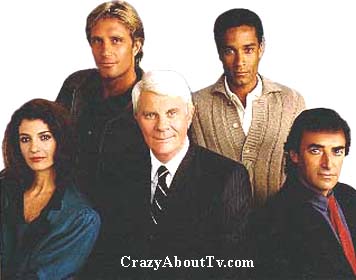 Series Description
The Mission Impossible TV show was a 60 minute undercover spy action series on ABC.
Mission Impossible Cast
Peter Graves .... Jim Phelps
Tony Hamilton .... Max Harte
Phil Morris .... Grant Collier
Thaao Penghlis .... Nicholas Black
Jane Badler .... Shannon Reed
Terry Markwell .... Casey Randall
Bob Johnson .... Laser Disc Voice
Episodes List With Original Air Dates
Season 1

The Killer (10/23/1988)
The System (10/30/1988)
Holograms (11/6/1988)
The Condemned (11/20/1988)
The Legacy (11/26/1988)
The Wall (12/11/1988)
The Cattle King (12/18/1988)
The Pawn (1/15/1989)
The Haunting (1/28/1989)
The Lions (2/4/1989)
The Greek (2/11/1989)
The Fortune (2/18/1989)
The Fixer (2/25/1989)
Spy (3/18/1989)
The Devils (3/25/1989)
The Plague (4/8/1989)
Reprisal (4/15/1989)
Submarine (4/29/1989)
Bayou (5/6/1989)
Season 2
The Golden Serpent - Part 1 (9/21/1989)
The Golden Serpent - Part 2 (9/28/1989)
The Princess (10/5/1989)
Command Performance (10/12/1989)
Countdown (10/26/1989)
War Games (11/2/1989)
Target Earth (11/9/1989)
The Fuhrer's Children (11/16/1989)
Banshee (11/30/1989)
For Art's Sake (12/14/1989)
Deadly Harvest (1/6/1990)
Cargo Cult (1/13/1990)
The Assassin (1/20/1990)
Gunslinger (2/3/1990)
Church Bells In Bogota (2/10/1990)
The Sands Of Seth (2/24/1990)
Other TV Series:
Theatrical Movies
Mission Impossible
Mission Impossible II
Mission Impossible III
Find Thousands of
Your Favorite
Shows

By Starting Letter
A B C D E F G
H I J K L M N
O P Q R S T U
V W X Y Z
Thank you for visiting our Mission Impossible TV show page!
Copyright © 1997-Present CrazyAboutTV.com
All rights reserved