Search CrazyAboutTV for your
favorite show or your
favorite star!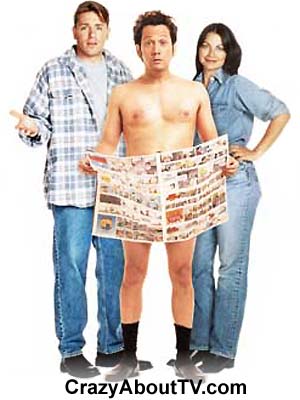 Series Description
The Men Behaving Badly TV show was a 30 minute comedy series on NBC about two immature male roommates who were just plain disguting. One of them had a girlfriend who constantly tried to grow him up but the other roommate was always there to bring him back down into the depths of irresponsibility!
Men Behaving Badly Cast
Rob Schneider .... Jamie Coleman
Ron Eldard .... Kevin Murphy (Episodes #1-23)
Justine Bateman .... Sarah Stretten (Episodes #1-22)
Dina Spybey .... Brenda Mikowski (Episode #7 & #11 to End of Series)
Julia Campbell .... Cherie Miller (Episodes #2-6 Only)
Ken Marino .... Steve (Episode #24 to End of Series)
Jenica Bergere .... Katie (Episode #24 to End of Series)
Tamara Bik .... Liz (Episodes #8 & 9)
Anna Gunn .... Michelle (Episode #1 Only)
Men Behaving Badly Trivia
There were seven episodes of Men Behaving Badly that were produced but not broadcast due to early cancellation of the series. Their titles were, "Here We Go Again", "Jamie's Got Next", "The Tape", "The Truth About Cats and Ducks", "The Fur Man Cometh", "Welcome to JamieCo", and "Carpe Dino".
Men Behaving Badly had some overwhelming competition in its time slot when canceled after only six episodes of the second season. "The Wonderful World of Disney" was on ABC, "Touched By an Angel" on CBS and "The Simpsons" on FOX. It's hard to imagine with that lineup that the series ever had a chance of survival!
The Men Behaving Badly TV show was inspired by a British Television series with the same name. When this US version aired outside the US it was titled, "It's a Man's World" so there would be no confusing the two versions.
The show's theme song was titled, "Bad Boy". It was written by "Larry Williams" and performed by "Marshall Crenshaw".
Episodes List With Original Air Dates
Season 1

Babies Having Babies (9/18/1996)
Temptation (9/25/1996)
The Bed (10/2/1996)
Hot Parkas (10/23/1996)
Getting the Bugs Out (10/30/1996)
Jamie's in Love (11/6/1996)
Drunken Proposal (11/13/1996)
Sarah's Vestigial Organ (11/20/1996)
Road Trip (12/11/1996)
Christmas (12/18/1996)
Wet Nurse (1/8/1997)
The Odds Couple (1/15/1997)
Jamie Needs a Kid (2/5/1997)
Playing Doctor (2/12/1997)
Brenda is Moved (2/19/1997)
I Am What I Am (4/2/1997)
The Party Favor (4/9/1997)
Getting Rid of Harry (4/16/1997)
After Midnight (5/7/1997)
Testing, Testing (5/14/1997)
It's Good to Be Dead (5/21/1997)
The Box (6/4/1997)
Season 2
No Retreat, No Surrender (9/28/1997)
Got Milk? (10/5/1997)
The Sting (10/12/1997)
Spoils of War (11/2/1997)
Special Delivery (11/9/1997)
The Gift of Jami (12/17/1997)
Find Thousands of
Your Favorite
Shows

By Starting Letter
A B C D E F G
H I J K L M N
O P Q R S T U
V W X Y Z
Thank you for visiting our Men Behaving Badly page!
Copyright © 1997-Present CrazyAboutTV.com
All rights reserved