Search CrazyAboutTV for your
favorite show or your
favorite star!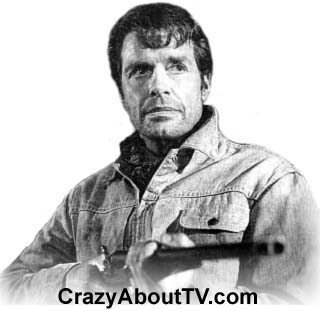 Series Description
The Man Called Shenandoah TV show was a 30 minute western drama series on ABC about a man who was discovered nearly dead after being shot on a lonely prairie trail. Luckily some buffalo hunters found him and took him to the nearest town where a girl who worked in the saloon nursed him back to health. Unfortunately the man could not remember his name or anything else about his past. He decided to leave town on a quest to discover who he was but before he could leave he got into a gunfight with the single person who knew his identity and killed the man. And so his quest continued.
A Man Called Shenandoah Cast
Robert Horton .... Shenandoah
A Man Called Shenandoah Trivia
Out of the 34 episodes of A Man Called Shenandoah, unfortunately five can not be found.
The man took on the name Shenandoah when it was suggested to him by a doctor who treated him during his recovery. The name means "land of silence", apparently referring to the fact that the man's past was not speaking to him.
For a relatively short run series, A Man Called Shenandoah managed to draw an outstanding number of popular guest stars! Among them were Claude Akins ("Movin' On"), Ed Asner ("The Mary Tyler Moore Show"), Bruce Dern ("Big Love"), George Kennedy ("The Blue Knight"), Martin Landau ("Mission Impossible"), Cloris Leachman ("Phyllis") and Warren Oates ("Stoney Burke"). And future Star Trek fans couldn't have been disappointed either. The original Star Trek series stars James Doohan ("Scotty"), Deforest Kelley ("Dr. McCoy") and Leonard Nimoy ("Spock") all guest-starred on A Man Called Shenandoah.
Just in case you were a western fan during the 1960s and you somehow missed Robert Horton's performances on A Man Called Shenandoah, you almost certainly enjoyed them in his role as Flint McCullough on the hit western series, "Wagon Train".
Warning! You may not want to read on if you ever plan to watch this series! Audiences learned later on in the series what was the true identity of Shenandoah. Here it comes! He had been a northern officer during the civil war and also excelled as a card player.
A Man Called Shenandoah Theme Song
Title: "Oh Shenandoah"
Performed By: "Robert Horton"
Oh Shenandoah
You're doomed to wander
On beyond this land so lonely
Oh Shenandoah
You're doomed to wander
So roam in search of home
Across this land so lonely
Been ridin' hard
Since dawns a breakin'
Cross this barren land so lonely
Perhaps today
I'll end my roaming
My name, I'll learn my name
Before the days a going
The man I thought they would bury
Deep within this land so lonely
Oh Shenandoah you're doomed to wander
So roam in search of home
Cross this land so lonely
Episodes List With Original Air Dates
The First And Only Season

The Onslaught (9/13/1965)
Survival (9/20/1965)
The Fort (9/27/1965)
The Caller (10/11/1965)
The Debt (10/18/1965)
Obion - 1866 (10/25/1965)
The Verdict (11/1/1965)
Town on Fire (11/8/1965)
Incident at Dry Creek (11/15/1965)
The Locket (11/22/1965)
The Reward (11/29/1965)
A Special Talent for Killing (12/6/1965)
The Siege (12/13/1965)
The Bell (12/20/1965)
The Young Outlaw (12/27/1965)
The Accused (1/3/1966)
Run, Killer, Run (1/10/1966)
Rope's End (1/17/1966)
The Lost Diablo (1/24/1966)
A Long Way Home (1/31/1966)
End of a Legend (2/7/1966)
Run and Hide (2/14/1966)
The Riley Brand (2/21/1966)
Muted Fifes, Muffled Drums (2/28/1966)
Plunder (3/7/1966)
Marlee (3/14/1966)
The Death of Matthew Eldridge (3/21/1966)
Aces and Kings (3/28/1966)
The Imposter (4/4/1966)
An Unfamiliar Tune (4/11/1966)
The Clown (4/18/1966)
Requiem for the Second (5/2/1966)
Care of General Delivery (5/9/1966)
Macauley's Cure (5/16/1966)
Find Thousands of
Your Favorite
Shows

By Starting Letter
A B C D E F G
H I J K L M N
O P Q R S T U
V W X Y Z
Thank you for visiting our A Man Called Shenandoah page!
Copyright © 1997-Present CrazyAboutTV.com
All rights reserved