Search CrazyAboutTV for your
favorite show or your
favorite star!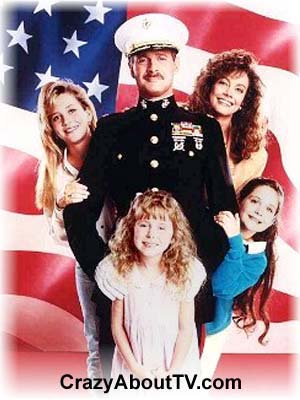 Series Description
The Major Dad TV show was a 30 minute family comedy series on CBS about a hard core Marine Major (John) who fell in love with and married a low-key, liberal journalist (Polly) with three daughters. It was love at first sight and they tied the knot within 24 hours of meeting each other. The main plotline of the series concentrates on how Polly and the girls adjust to life as a Marine family and how John deals with a wife and kids who weren't about to live in a highly structured environment.
Major Dad Cast
Gerald McRaney .... Major John D. "Mac" McGillis
Shanna Reed .... Polly Cooper McGillis
Nicole Dubuc .... Robin Cooper McGillis
Marisa Ryan .... Elizabeth Cooper McGillis
Chelsea Hertford .... Casey Cooper McGillis
Matt Mulhern .... Lieutenant Eugene "Gene" Holowachuk
Beverly Archer .... Gunnery Sergeant Alva "Gunny" Bricker (1990-1993)
Jon Cypher .... General Marcus C. Craig (1990-1993)
Major Dad Trivia
For the first season, the McGillis family was stationed at the fictional Camp Singleton in San Diego, California. At the beginning of season 2 they moved to Camp Hollister in Farlow, Virginia, a suburb of Washington, D.C.
When Major Dad premiered, it had some hefty competition! ABC had "MacGyver" in the same time slot. The popular sci-fi/comedy series "ALF" was on NBC, and FOX was airing "21 Jump Street"!
If you never watched Major Dad, you might still remember Beverly Archer as "Iola Lucille Boyland" on the series, "Mama's Family".
You might also better remember Jon Cypher as "Chief Fletcher Daniels" on "Hill Street Blues".
The Major Dad scripts often reflected what was going on in the real life U.S. military. During the winter of 1990/1991, the build up of U.S. military forces and the war in Iraq and Kuwait were often mentioned. When the government began closing down military bases, there was much concern on the show about the possiblity that Camp Hollister might be closed.
The building shown during the opening credits during seasons 2-4 was actually a building located on Quantico Marine Base in Virginia.
Gerald McRaney was the last guest star to meet Marshall Matt Dillon in a gunfight on the series, "Gunsmoke" (in episode, "Hard Labor (2/24/1975)").McRaney almost always played a bad guy until his first series, "Simon and Simon", became a huge hit! After that, he mostly portrayed good guys. Major Dad then gave Gerald an opportunity to show that he could also play funny characters with an "edge". comedy. McRaney fell in love Delta Burke when she guest starred on "Simon and Simon". Then he guested on her series, "Designing Women", in a role as Delta's ex-husband and, ironically, they were married shortly thereafter.
At the end of the second season, Major McGillis adopted his wife's three daughters and they truly became one big happy (well usually) family!
Polly McGillis' middle name was "Esther" which resulted in her being "Polyester". Apparently, her parents had a twisted sense of humor.
Episodes List With Original Air Dates
Season 1

Major Dad (9/17/1989)
Just Polly & Me, and the Kids Make Five (9/18/1989)
Rescue Mission (9/25/1989)
Wedding (10/2/1989)
Wounded Flyboy and the Nurse Who Gave Him Reason to Live (10/9/1989)
Twinkle (10/16/1989)
Jane Wayne Day (10/23/1989)
Robin's Awakening (11/6/1989)
Major Mom (11/13/1989)
Love Doctor (11/20/1989)
Over the Hill (11/27/1989)
Boxer Rebellion (12/4/1989)
Discipline (12/11/1989)
Lemon (1/2/1989)
That Connell Woman (1/8/1990)
Jr. (1/29/1990)
Major Coach (2/5/1990)
Camp MacGillis (2/19/1990)
Not with My Daughter You Don't (2/26/1990)
Officer of the Day (3/12/1990)
All Quiet on the Home Front - Part 1 (4/2/1990)
All Quiet on the Home Front - Part 2 (4/9/1990)
See the Bridge (4/30/1990)
Standing Tall (5/7/1990)
Face the Music ... and Dance - Part 1 (5/14/1990)
Face the Music ... and Dance - Part 2 (5/21/1990)
Season 2
Safe at First Base (9/17/1990)
Welcome to Hollister (9/24/1990)
Get a Job (10/1/1990)
The Goat (10/8/1990)
First Anniversary (10/15/1990)
Wetting Down (10/22/1990)
Infant-ry (10/29/1990)
Birthday Ball (11/5/1990)
Wish You Were Here (11/12/1990)
Love on the Run (11/19/1990)
Operation Fun Run (11/26/1990)
Gift of the Major (12/19/1990)
Flying Solo (1/7/1991)
A Bird in the Hand (1/14/1991)
Learning to Drive (1/21/1991)
The Name is Over Here (2/4/1991)
Valentine's Day (2/11/1991)
Sins of the Father (2/18/1991)
The Possible Dream (2/25/1991)
Private Affair (3/11/1991)
Polly's Choice (3/18/1991)
Silent Drill Team (4/8/1991)
Elmo Come Home (4/29/1991)
Together (5/13/1991)
Season 3
The Shut Down (9/16/1991)
Major Moonlighting (9/23/1991)
Polly's Pen Pal (9/30/1991)
A Few Good Men (10/7/1991)
Poker Night (10/14/1991)
Anything You Can Do I Can Do Perky (10/21/1991)
Educating Casey (10/28/1991)
Lady in Waiting (11/4/1991)
General Unrest (11/11/1991)
Steel Magnolia (11/18/1991)
On the Line (11/25/1991)
The Shell Game (12/9/1991)
Who's That Blonde? (12/16/1991)
We've Got Trouble (1/6/1992)
Three's a Crowd (1/13/1992)
Three Angry Marines (1/20/1992)
Close Encounters (2/3/1992)
Base Desires (2/24/1992)
When Gunny Talks (3/2/1992)
The "L" Word (3/9/1992)
Sick Bay (3/16/1992)
Charlotte's Web (4/27/1992)
The Noisy Drill Team (5/4/1992)
In the Brick of Time (5/11/1992)
Season 4
The People's Choice - Part 1 (9/25/1992)
The People's Choice - Part 2 (10/2/1992)
Here's Looking at You, Pol (10/16/1992)
Catered Affair (10/23/1992)
There's No Place Like Farlow (10/30/1992)
The Election Show (11/6/1992)
Gunny's Veiled Threat (11/13/1992)
One for the Road (11/20/1992)
Blue Tenant Holowachuk (12/4/1992)
Old Acquaintance (12/18/1992)
About Face (1/8/1993)
I'll Be Seeing You (1/15/1993)
Night School (1/22/1993)
Piano Lesson (1/29/1993)
Come Rain or Come Shine (2/5/1993)
Colonel of Truth (2/12/1993)
From Russia with Like (2/19/1993)
The Spell of Grease Paint (3/5/1993)
Gunny Gets Robbed (3/12/1993)
Conduct Unbecoming (4/2/1993)
General Disturbance (4/9/1993)
Oops, a Daisy (4/16/1993)
Find Thousands of
Your Favorite
Shows

By Starting Letter
A B C D E F G
H I J K L M N
O P Q R S T U
V W X Y Z
Thank you for visiting our Major Dad TV show page!
Copyright © 1997-Present CrazyAboutTV.com
All rights reserved