Search CrazyAboutTV for your
favorite show or your
favorite star!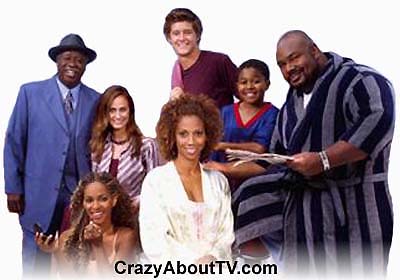 Series Description
The Like Family TV show was a comedy series about an African-American woman and her family who invited her single mom, best friend and daughter to live with them. Add to the normal situations that you'd expect when to families co-habitate, a 74-year-old wild and still very sexually aware Grandpa and you've got a recipe for laughter!
Cast
Holly Robinson Peete .... Tanya Jones
Kevin Michael Richardson .... Ed Jones
J. Anthony Brown .... Ed "Pop" Jones
Megalyn Echikunwoke .... Danika Jones
B.J. Mitchell .... Bobby Jones
Diane Farr .... Maddie
J. Mack Slaughter .... Keith
Trivia
There was one episode that was produced but did not originally air after Like Family was canceled. Its title was "We're Gonna Need More Peanut M&M's".
Like Family was not the first choice for the series' title. Originally, it was to have been called, "Family Friends".
Episodes List With Original Air Dates
The First And Only Season

Pilot Episode (9/19/2003)
Under One Roof (9/26/2003)
The Curfew (10/3/2003)
The Date (10/10/2003)
College Debate (10/17/2003)
Black Like Keith (10/31/2003)
The Dance (11/7/2003)
Parental Authority (11/14/2003)
Value of a Dollar (11/21/2003)
Who's Your Daddy? (1/9/2004)
Bobby's Bully (1/16/2004)
My Two Moms (1/23/2004)
Ladies' Night (1/30/2004)
Daddy Knows Best (2/6/2004)
The Permit (2/13/2004)
Women at Work (3/18/2004)
Dating the Enemy (3/25/2004)
Romancing the Home (4/1/2004)
Sex Ed (4/8/2004)
Brother's Keeper (4/15/2004)
Roger Returns (4/22/2004)
Find Thousands of
Your Favorite
Shows

By Starting Letter
A B C D E F G
H I J K L M N
O P Q R S T U
V W X Y Z
Thank you for visiting our Like Family TV show page!
Copyright © 1997-Present CrazyAboutTV.com
All rights reserved