Search CrazyAboutTV for your
favorite show or your
favorite star!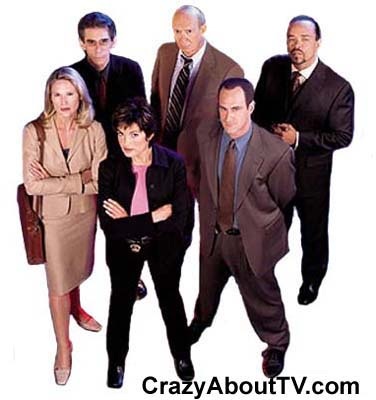 There are several other Law & Order series! The first one premiered in 1990 and was titled simply, "Law & Order". Then this series in 1999, "Law & Order: Criminal Intent" in 2001, "Law & Order: Trial by Jury" in 2005, "Law & Order: LA" in 2010, "Law & Order True Crime" in 2017 and "Law & Order: Organized Crime" in 2021.
Series Description
Law and Order SVU is a 60 minute legal, drama series on NBC that deals with the criminals that society finds the most offensive ... those that have a sexual connection. Most of the victims are either murdered or brutally exploited or both. The Sexual Victims Unit of the NYPD was formed to find these despicable, anti-social animals and bring them to justice. Some of the plotlines include rape, child molestation, and anti-gay crimes.
Law and Order SVU Cast
Mariska Hargitay .... Detective Olivia Benson
Richard Belzer .... Detective John Munch
Dann Florek .... Captain Donald Cragen
Ice-T .... Detective Odafin "Fin" Tutuola (2000-)
BD Wong .... Dr. George Huang (2001-)
Tamara Tunie .... Dr. Melinda Warner (2000-)
Diane Neal .... A.D.A. Casey Novak (2001-)
Stephanie March .... A.D.A. Alexandra Cabot (2000-)
Christopher Meloni .... Detective Elliot Stabler (1999-2011)
Joel de la Fuente .... TARU Tech Ruben Morales (2002-2011)
Mike Doyle .... Forensics Tech Ryan O'Halloran (2002-2009)
Law and Order SVU Opening Narrative
(Steve Morgan: Narrator:)
"In the criminal justice system, sexually based offenses are considered especially heinous. In New York City, the dedicated detectives who investigate these vicious felonies are members of a elite squad known as the Special Victims Unit. These are their stories."
Find Thousands of
Your Favorite
Shows

By Starting Letter
A B C D E F G
H I J K L M N
O P Q R S T U
V W X Y Z
Thank you for visiting our Law and Order SVU page!
Copyright © 1997-Present CrazyAboutTV.com
All rights reserved