Kolchak The Night Stalker
Search CrazyAboutTV for your
favorite show or your
favorite star!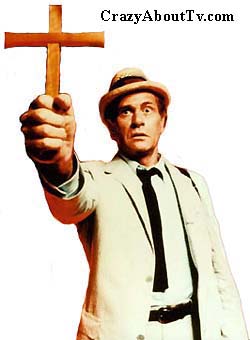 Series Description
The TV show was a 60 minute horror series on ABC about a reporter who investigated crimes that occured under strange circumstances. Most of them were involved the supernatural and even the police didn't want to get involved! They typically involved werewolves, ghosts, vampires, and other creatures. Kolchak's editor didn't believe in such things and, along with many other people, thought that Kolchak either had an over-active imagination or he was just plain nuts!
Kolchak The Night Stalker Cast
Darren McGavin .... Carl Kolchak
Simon Oakland .... Tony Vincenzo
Jack Grinnage .... Ron Updyke
Ruth McDevitt .... Emily Cowles
Trivia
Kolchak: The Night Stalker had a "spin-off" series titled, "The Night Stalker (2005)" since the character, "Carl Kolchak" was used on that series.
The news agency that Carl Kolchak worked for was the "Independent News Service" located in Chicago, Illinois.
As of the time it was broadcast, the first movie, "The Night Stalker" set a record for the most-watched TV movie ever! 54% of the viewing audience at it air time were tuned in!
Contrary to popular belief, Darren McGavin never held the position as Kolchak: The Night Stalker's executive producer. He did, on many occasions, get involved in decisions that should have been made by the show's real producers, Cy Chermak and Paul Playdon. Cy and Paul didn't care much for the star's butting into their territory either!
Prior to starring on Kolchak: The Night Stalker, Darren McGavin starred on three other TV shows, "Mike Hammer" as "Mike Hammer", "Riverboat" as "Captain Grey Holden", and "The Outsider" as "David Ross".
The similarities between Kolchak: The Night Stalker and "The X-Files" are undeniable. Many critics and viewers feel that Kolchak must have been what inspired the X-Files.
While filming the 1972 movie, Barry Atwater wore red contacts to make his character (Vampire Janos Skorzeny) look more evil. They made his eyes so sensitive that they would actually become bloodshot and he stopped needing them for later filming!
Episodes List With Original Air Dates
Pilot TV Movies
The Night Stalker (1/11/1972)
The Night Strangler (1/16/1973)
The First And Only Season
1... The Ripper (9/13/1974)
2... The Zombie (9/20/1974)
3... They Have Been, They Are, They Will Be (9/27/1974)
4... The Vampire (10/4/1974)
5... The Werewolf (11/1/1974)
6... Firefall (11/8/1974)
7... The Devil's Platform (11/15/1974)
8... Bad Medicine (11/29/1974)
9... The Spanish Moss Murders (12/6/1974)
10. The Energy Eater (12/13/1974)
11. Horror In The Heights (12/20/1974)
12. Mr. R.I.N.G. (1/10/1975)
13. Primal Scream (1/17/1975)
14. The Trevi Collection (1/24/1975)
15. Chopper (1/31/1975)
16. Demon In Lace (2/7/1975)
17. Legacy Of Terror (2/14/1975)
18. The Knightly Murders (3/7/1975)
19. The Youth Killer (3/14/1975)
20. The Sentry (3/28/1975)
Find Thousands of
Your Favorite
Shows

By Starting Letter
A B C D E F G
H I J K L M N
O P Q R S T U
V W X Y Z
Thank you for visiting our Kolchak The Night Stalker page!
Copyright © 1997-Present CrazyAboutTV.com
All rights reserved