Search CrazyAboutTV for your
favorite show or your
favorite star!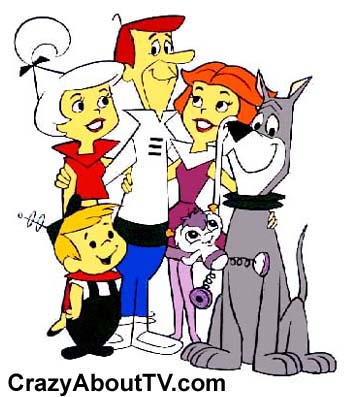 Series Description
The Jetsons TV show was an animated kids TV series about the lives of the Jetson family who live with their dog Astro and housekeeper robot Rosie in a high rise home of the future ... complete with a parking garage for their spacecar. Mom, dad, and the kids have it made in some ways with instant food preparation, ionic showers, and workdays where all one needs do is push one button ... then go home, but the future is not all "Rosie" either! The Jetsons get into their share of jams (especially George, Elroy, and Astro), but they typically find some "way of the future" to get out of trouble!
The Jetsons Characters
Voices:
George O'Hanlon .... George Jetson
Penny Singleton .... Jane Jetson
Janet Waldo .... Judy Jetson
Daws Butler .... Elroy Jetson / Henry Orbit / W.C. Cogswell
Jean Vander Pyl .... Rosie the Robot / Mrs. Starla Spacely (Credited As Jean Vanderpyl)
Don Messick .... Astro / R.U.D.I
Mel Blanc .... Cosmo S. Spacely / Miscellaneous Voices
The Jetsons Trivia
Every single episode of The Jetsons was broadcast in color! It was the first ABC series to air entirely in color. "The Flintstones" had the first episode in color on ABC but that began in its third season and that episode only beat the Jetsons premiere by 9 days.
The Jetsons Theme

Title: "The Jetsons Theme"
Written By: "William Hanna, Joseph Barbera, and Hoyt Curtin"
Meet George Jetson.
His Boy Elroy.
Daughter Judy.
Jane his wife.

Ok. Admittedly, that one's pretty lame so we'll also give you the lyrics to the best-known song that aired on The Jetsons:
Title: "Eep Opp Ork Ah-Ah"
Written By: "Howard Morris"
Eep opp ork ah ah
Get in the capsule, baby
We are blasting off.

Eep opp ork ah ah (whooooo)
Eep opp ork ah ah (whooooo)
Eep epp ork ah ah
And that means I love you.

Well now, I took my baby for a ride in space
(Eep epp ork ah ah)
And met a funny little man with a funny face
(Eep epp ork ah ah)
He taught us both to wail this way
(Eep epp ork ah ah)
And nobody digs a word we say
(Eep epp ork ah ah).

Eep epp ork ah ah (whooooo)
Eep epp ork ah ah (whooooo)
Eep epp ork ah ah
And that means I love you.

Yeah I read my baby loud and clear
(Eep epp ork ah ah)
She just said I love you dear.
(Eep epp ork ah ah)
Now when I reply the way I do
(Eep epp ork ah ah)
I just said I love you too
Come fly with me!
Up high with me!
Come on fly with me
And now Eep epp ork means I dig you.

you heard the word that crazy word
That word you heard Eep epp ork ah ah means I love you.

Hop on baby, I'll put you in orbit.
Episodes List With Original Air Dates
The Jetsons First Season
Rosie the Robot (9/23/1962)
A Date With Jet Screamer (9/30/1962)
Jetsons Nite Out (10/7/1962)
The Space Car (10/14/1962)
The Coming of Astro (10/21/1962)
The Good Little Scouts (10/28/1962)
The Flying Suit (11/4/1962)
Rosie's Boyfriend (11/11/1962)
Elroy's TV Show (11/18/1962)
Uniblab (11/25/1962)
A Visit From Grandpa (12/2/1962)
Astro's Top Secret (12/9/1962)
Las Venus (12/16/1962)
Elroy's Pal (12/23/1962)
Test Pilot (12/30/1962)
Millionaire Astro (1/6/1963)
The Little Man (1/13/1963)
Jane's Driving Lesson (1/20/1963)
G.I. Jetson (1/27/1963)
Miss Solar System (2/3/1963)
Private Property (2/10/1963)
Planet Dude (2/17/1963)
TV or Not TV (2/24/1963)
Elroy's Mob (3/3/1963)
The Jetsons Second Season
The Vacation (9/1/1984)
Space Bong (Secret Agent Double O-Oh) (9/8/1984)
Elroy Meets Orbity (9/15/1984)
Elroy in Wonderland (9/22/1984)
The Swiss Family Jetson (9/29/1984)
Winner Takes All (10/6/1984)
High Moon (10/13/1984)
Team Spirit (10/20/1984)
Super George (10/27/1984)
Little Bundle of Joy (11/3/1984)
Dance Time (11/10/1984)
Judy's Birthday Surprise (11/17/1984)
Hi-Tech Wreck (11/24/1984)
Rip-Off Rosie (12/1/1984)
The Mirrormorph (12/8/1984)
Mother's Day for Rosie (12/15/1984)
Fugitive Fleas (12/22/1984)
Far-Out Father (12/29/1984)
Astro's Big Moment (1/5/1985)
S.M.A.S.H. (1/12/1985)
The Cosmic Courtship of George and Jane (1/19/1985)
Fantasy Planet (1/26/1985)
Sno Relative (2/2/1985)
One Strike You're Out (2/9/1985)
Solar Snoops (2/16/1985)
Rosie Come Home (2/23/1985)
Family Fallout (3/2/1985)
Instant Replay (3/9/1985)
Haunted Halloween (3/16/1985)
Future Tense (3/23/1985)
The Wrong Stuff (3/30/1985)
Judy Takes Off (4/6/1985)
A Jetson Christmas Carol (4/13/1985)
Dog Daze Afternoon (4/20/1985)
Robot's Revenge (4/27/1985)
Jetson's Millions (5/4/1985)
To Tell the Truth (5/11/1985)
Judy's Elopement (5/18/1985)
Grandpa and the Galactic Golddigger (5/25/1985)
Boy George (6/1/1985)
The Century's Best (6/8/1985)
Crime Games (6/15/1985)
The Jetsons Third Season
ASTRONomical I.Q. (9/1/1987)
9 to 5 to 9 (9/8/1987)
Invisible Yours, George (9/15/1987)
Father/Daughter Dance (9/22/1987)
Clean as a Hound's Tooth (9/29/1987)
Wedding Bells for Rosie (10/6/1987)
The Odd Pod (10/13/1987)
Too Many Georges (10/20/1987)
Spacely for a Day (10/27/1987)
The Jetsons TV Movies
The Jetsons Meet the Flintstones (11/9/1987)

The Jetsons Theatrical Movies
The Jetsons: The Movie (7/6/1990)
Find Thousands of
Your Favorite
Shows

By Starting Letter
A B C D E F G
H I J K L M N
O P Q R S T U
V W X Y Z
Thank you for visiting our The Jetsons page!
Copyright © 1997-Present CrazyAboutTV.com
All rights reserved