Search CrazyAboutTV for your
favorite show or your
favorite star!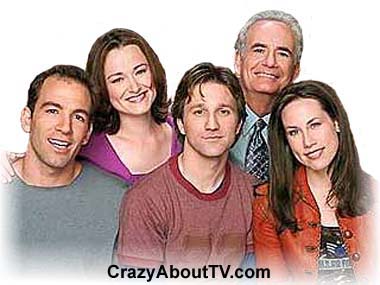 Series Description
The Inside Schwartz TV show was a 30 comedy series on NBC about the vice-president of operations of a pita sandwich chain and occasional minor league baseball sportscaster who got dumped by his girlfriend and has to re-enter the wonderful world of dating. Or maybe not so wonderful. He had a group of friends to give him advice, both good and (usually) bad about how to be successful in that endeavor.
Inside Schwartz Cast
Breckin Meyer .... Adam Schwartz
Miriam Shor .... Julie Hermann
Richard Kline .... Gene Schwartz
Bryan Callen .... David Cobert
Dondre T. Whitfield .... William Morris
Jennifer Irwin .... Emily Cobert
Maggie Lawson .... Eve Morris
Van Earl Wright .... Himself
Kevin Frazier .... Himself
Holly Morel .... Larry Bird's Voice
Inside Schwartz Trivia
There were four episodes of the Inside Schwartz TV show that were produced but did not originally air after Inside Schwartz was canceled. Their titles were: "It's All in the Footwork"; "Service, Schwartz"; "Bless Me Father, For I Have Fired You"; and "He Ain't Funny, He's My Brother".
Episodes List With Original Air Dates
The First And Only Season

Pilot Episode (9/27/2001)
Let's Go to the Videotape (10/4/2001)
The Pinch Hitter (10/18/2001)
Event Night (10/25/2001)
Comic Relief Pitcher (11/29/2001)
Roommates (12/6/2001)
Play-Action Fake Boyfriend (12/20/2001)
Eve's Date with Schwartz's Destiny (12/27/2001)
Kissing Cousin (1/3/2002)
Find Thousands of
Your Favorite
Shows

By Starting Letter
A B C D E F G
H I J K L M N
O P Q R S T U
V W X Y Z
Thank you for visiting our Inside Schwartz TV show page!
Copyright © 1997-Present CrazyAboutTV.com
All rights reserved