Search CrazyAboutTV for your
favorite show or your
favorite star!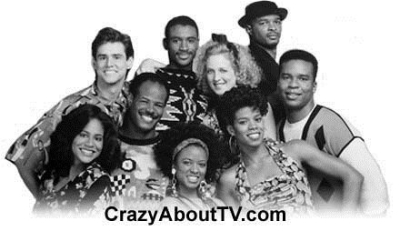 Series Description
The In Living Color TV show was a 30 minute sketch comedy series on the FOX Network that was created and written by Damon and Keenen Wayans who also starred on the show. It concentrated on humor involving mostly Afro-American subjects, providing a comedy release for audiences that was rare in 1990 and providing a career boost for African-American comedians (and a couple of white guys too).
In Living Color Cast
Keenen Ivory Wayans
Damon Wayans
Jim Carrey
Kim Coles
David Alan Grier
Shawn Wayans
T'Keyah Crystal Keymah
Jeremy Wayne
Jamie Foxx (1992-1994)
Jennifer Lopez (1992-1994)
Laurie Ann Gibson
Carrie Ann Inaba
Rosie Perez (1990-1992)
The Fly Girl Dance Troupe
In Living Color Trivia
Taking a cue from "Saturday Night Live", In Living Color featured live musical performances by top performers and groups including "Arrested Development", "Eazy-E", "En Vogue", "Heavy D", "Jodeci", "Kris Kross", "Leaders of the New School", "Mary J. Blige", "MC Lyte", "Monie Love", "Onyx", "Public Enemy", "Queen Latifah" and "Tupac Shakur".
The title of this series was taken from the well known "Peacock" segment that NBC aired before their new color programming in the 1960s that informed the audience that the show was being broadcast, "In Living Color".
In Living Color did not air live but it was taped live in front of an audience on Stage Seven at the FOX Television Center in Hollywood, California.
You could say that In Living Color was almost a family affair. Besides Keenan and Damon Kim, Marlon and Shawn Wayans were also regular Cast and Dwayne Wayans often appeared as an extra on the set!
The series changed its original opening credits logo shortly after it premiered. The band "Living Colour" filed a lawsuit claiming that the show ripped off their name and logo. It was decided that the name wasn't a ripoff due to the spelling difference and the fact that the name came from the 1960s NBC opening but the logo was pretty similar so it was changed.
During a live Super Bowl halftime special on January 26, 1992 a skit was performed that showed actor Richard Gere and track and field star Carl Lewis as a couple of gay guys. After that FOX began censoring scripts much more aggressively. The Wayans Brothers were not even a little bit happy about the change and Keenen left the show at the end of that season although he did appear in the fourth season opener. He also remained as the Executive producer and left himself in the opening credits until the 13th episode. Marlon left the show with Keenan. At the end of the fourth season Kim and Shawn also left. Damon had also left after the third season in order to pursue a movie career but he also appeared on In Living Color a few times in the fourth season as a guest star.
Episodes List With Original Air Dates
Season 1

Pilot Episode (4/15/1990)
The Wrath of Farrakhan (4/21/1990)
Lean On Me Beautiful (4/28/1990)
Transitions (5/5/1990)
A Date With Grace Jones (5/12/1990)
Jheri's Kids (5/19/1990)
Don King-The Early Years (5/27/1990)
Endangered Species (6/3/1990)
Introducing..Homey D. Clown (6/17/1990)
Vera DeMilo (6/24/1990)
Anton In The People's Court (7/15/1990)
Conspiracy (9/2/1990)
Homey D Clown Returns (9/9/1990)
Season 2
Bigger Brother (9/23/1990)
Anton At The Recruiter (9/30/1990)
Spike's Joint (10/7/1990)
Hour Of Power (10/14/1990)
Miss Black Person USA (10/21/1990)
The Black Man's Guide To Understanding The Black Woman (10/28/1990)
Funky Finger Productions (11/4/1990)
Laquita Meets Billy Dee (11/11/1990)
Men On Vacation (11/18/1990)
Anton's Thanksgiving (11/25/1990)
Justice Legions of America (12/16/1990)
Veracosa (12/23/1990)
Johnny Abdul (1/13/1991)
Introducing..Fire Marshal Bill (2/3/1991)
My Dark Conscience (2/10/1991)
Anton In The Burbs (2/17/1991)
PCN's Win, Lose or Draw (2/24/1991)
Lil Magic's School Play (3/3/1991)
Hour of Power: Tag Team Evangalists (3/17/1991)
Super Fly (3/31/1991)
Anton At The Recruiter (4/14/1991)
Arsenio Hall Of Justice (4/28/1991)
Compilations (5/5/1991)
Homey The Sellout: Part 1 (5/12/1991)
Dickie Peterson: Cherub of Justice (8/11/1991)
Men On Vacation (9/1/1991)
Season 3
Homey The Sellout: Part 2 (9/22/1991)
Men on Televison Part 2: What Happened To Blaine? (9/29/1991)
Clarance Thomas's First Day (10/6/1991)
Green Eggs and The Guvment Cheese (10/13/1991)
The Adventures of Handi-Boy (10/20/1991)
Home Alone Again (10/27/1991)
The Jackson Bunch (11/3/1991)
Late Night with Mike Tyson (11/10/1991)
Krishnia Cop (11/17/1991)
My Left Foot of Fury (11/1/1991)
Anton And The Reporter (12/8/1991)
Sidekick in Nam (12/15/1991)
Santa Fire Marshall Bill (12/22/1991)
Micheal Jackson: Little Timmy's Not My Lover (1/12/1992)
Grim Reaper (1/19/1992)
Live Superbowl Halftime Show (1/26/1992)
George Bush Meets Tommy Wu (2/2/1992)
Hour of Power: Preachers On Trial (2/9/1992)
The Fist That Rocks The Cradle (2/16/1992)
Club Ozone (2/23/1992)
Anton And The Green Card (3/1/1992)
Player'sClub (3/15/1992)
The Last Man On Earth (3/29/1992)
Men On Football (4/12/1992)
Bloopers (4/26/1992)
Cousin Elsee (5/3/1992)
Silly Cone (5/10/1992)
Wanda On The Dating Game (5/17/1992)
Anton Gets Rich (5/24/1992)
Michael Bolton (5/31/1992)
Season 4
Episode #401 (9/27/1992)
Episode #402 (10/4/1992)
Episode #403 (10/11/1992)
Black People Awards (10/18/1992)
Episode #405 (10/25/1992)
Anton Returns (11/1/1992)
Homey and Son (11/8/1992)
Handi-Man Returns (11/15/1992)
Men On Cooking (11/22/1992)
Gays In The Military (12/6/1992)
Driving Miss Shott (12/13/1992)
The Dysfunctional Home Christmas Show (12/20/1992)
Capital Hillbillies (1/17/1993)
The Info Group (1/24/1993)
Forever Silky (2/7/1993)
Dirty Little Dick (2/14/1993)
Passenger 227 (2/21/1993)
Duke and Cornbread Turner (3/7/1993)
Mr. Rogers (3/14/1993)
Rodney King (3/21/1993)
Black People Show (4/4/1993)
Stacy Koon's Police Acadamy (4/25/1993)
Undigable Hosts (5/2/1993)
Thelma and Louise Jefferson (5/9/1993)
Bunny Clive (5/16/1993)
In Living Color's Feedback Line (5/23/1993)
Season 5
Ike Strikes Back (9/16/1993)
The Dirty Dozens (9/23/1993)
Ike Turner an Hooch (9/30/1993)
Unpoetic Justice (10/7/1993)
The Irish Singer (10/14/1993)
Droop! There It Is (10/21/1993)
Circus of the Black Stars (10/28/1993)
Sam Kinison: Live From Hell (11/4/1993)
All Up In The Family (11/11/1993)
Wile E Coyote on Trial (11/18/1993)
Umbilical Barry (12/2/1993)
Mary Tyler Mo (12/16/1993)
Wheel of Dozens (12/30/1993)
The Gangasta Group (1/13/1994)
East Hollywood Squares (1/27/1994)
Hemorrhoid Guy (2/3/1994)
The White League (2/10/1994)
Mrs. Ikefire (2/17/1994)
Dirty Dozens Tournament of Champions (2/24/1994)
Thugs (3/10/1994)
Infomercial Awards (3/24/1994)
Sweet Tooth Jones (4/7/1994)
Candy Cane's Last Show (4/28/1994)
Ace and Main Man Meet Salt n Pepa (5/5/1994)
The Scary Larry Show (5/12/1994)
Find Thousands of
Your Favorite
Shows

By Starting Letter
A B C D E F G
H I J K L M N
O P Q R S T U
V W X Y Z
Thank you for visiting our In Living Color TV show page!
Copyright © 1997-Present CrazyAboutTV.com
All rights reserved