Search CrazyAboutTV for your
favorite show or your
favorite star!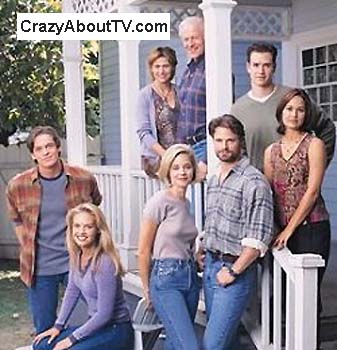 Series Description
The Hyperion Bay TV show was a 60 minute drama series on the WB Network (later to become the CW Network).
Hyperion Bay Cast
Mark-Paul Gosselaar .... Dennis Sweeny
Dylan Neal .... Nick Sweeny
Christina Moore .... Amy Sweeny
Raymond Barry .... Frank Sweeny
Cindy Pickett .... Marjorie Sweeny
Sydney Penny .... Jennifer Worth
Cassidy Rae .... Trudy Tucker
Chaka Forman .... Marcus Fox
Bart Johnson .... Nelson Tucker
Episodes List With Original Air Dates
The First And Only Season

Pilot Episode (9/21/1998)
The Cookie Crumbles (9/28/1998)
Static (10/5/1998)
Family Business (10/12/1998)
Temptation And Responsibility (10/19/1998)
Some Common Words And Phrases (10/26/1998)
Save The Last Dance For Me (11/2/1998)
Houseguests And Fish (11/16/1998)
The Rope (11/23/1998)
Young And On Fire (1/25/1999)
Truth Or Consequences (1/27/1999)
The Takeover (2/1/1999)
Strange Days (2/8/1999)
Valentine's Day (2/15/1999)
With Friends Like These... (2/22/1999)
A Matter Of Trust (3/1/1999)
The Weight Of The World (3/8/1999)
Find Thousands of
Your Favorite
Shows

By Starting Letter
A B C D E F G
H I J K L M N
O P Q R S T U
V W X Y Z
Thank you for visiting our Hyperion Bay TV show page!
Copyright © 1997-Present CrazyAboutTV.com
All rights reserved