Search CrazyAboutTV for your
favorite show or your
favorite star!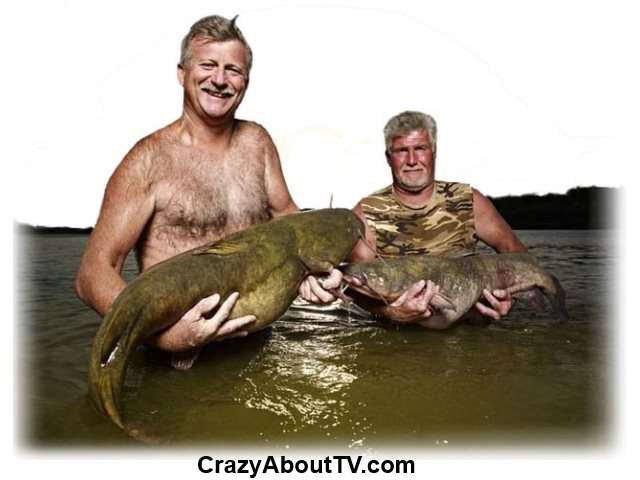 Series Description
Hillbilly Handfishin' is a 60 minute reality series on Animal Planet about the Bivins family and Trent Jackson who live in Oklahoma and call themselves hillbillies. They catch large catfish using only their bare hands and feet and earn their livings by taking tourists on handfishin' experiences.
Hillbilly Handfishin' Cast
Skipper Bivins
Trent Jackson
Christian Bivins
Heather Bivins
JoAnn Bivins
Jeannie James
Hillbilly Handfishin' Trivia
The business that the Bivins family owns is called "Big Fish Adventures" and is located in Temple, Oklahoma.
Fishing for catfish with nothing but hands and feet is commonly referred to as "noodling".
Noodling is a sport that takes place during spawning season when catfish lay in holes alongside the banks of rivers, streams and lakes.
Noodlers stick their hands or feet into a hole and the catfish takes it into its mouth. Then the noodler pulls out and has a fish that's large enough to get a human appendige in its mouth!
There is some risk in handfishin' as the same holes that catfish lay in also house beavers, muskrats, snakes and snapping turtles!
Shortly after he was chosen by Mitt Romney as his vice-Presidential running mate in the 2012 elections, Wisconsin Congressman Paul Ryan stated that he was a big fan of noodling. He said, "It's a lot of fun"!
Noodling is not legal in all states. As of 2012 it is legal in Alabama, Arkansas, Georgia, Illinois, Kentucky, Mississippi, North Carolina, Oklahoma, South Carolina, Tennessee and Wisconsin.
Some critics have shown concern over Hillbilly Handfishin's portrayal of Oklahoma citizens as redneck hillbillies. Hopefully, most people today are intelligent enough to realize that every state has people of all types and that lifestyles are simply choices that should not be judged by those choosing different lifestyles.

Episodes List With Original Air Dates
TV Pilot:
Hillbilly Handfishin' (9/24/2010)
Season 1

Catfish are Wicked Cute (8/7/2011)
Say Hello to My Little Friend (8/14/2011)
Come on You Noodling Diva! (8/21/2011)
Kansas Girls Do It Better (8/28/2011)
Win One for the Skipper (9/5/2011)
A Laugh, a Scream, and a Giggle (9/11/2011)
Chillaxin' with Jackson (9/18/2011)
Bragging Rights (9/25/2011)
Bad to the Bone (10/2/2011)
No Strings Attached (2/8/2012)
Get Back Loretta (2/12/2012)
I Want the Big One (2/19/2012)
Shake, Rattle, and Roll (2/26/2012)
Barin' It All (3/4/2012)
Season 2
Preachin' to the Catfish (7/29/2012)
Mud-luvin Ballroom Dancers (8/5/2012)
Jersey Shore Noodlers (8/14/2012)
Beauty and the Geeks (8/30/2013)
Catfish Kin (8/30/2013)
Singin To the Catfish Choir (8/30/2013)
Luck of the Irish (Series Finale) (8/30/2013)
Find Thousands of
Your Favorite
Shows

By Starting Letter
A B C D E F G
H I J K L M N
O P Q R S T U
V W X Y Z
Thank you for visiting our Hillbilly Handfishin' page!
Copyright © 1997-Present CrazyAboutTV.com
All rights reserved