Search CrazyAboutTV for your
favorite show or your
favorite star!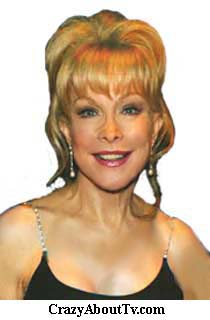 Series Description
The Harper Valley PTA TV show was a situation comedy series on ABC that was based upon the 1978 theatrical film of the same name. The film was inspired by the hit song by Jeannie C. Riley. It was a comedy about a liberated woman who encountered a group of people still "living in the fifties" who felt her behavior wasn't up to their moral standards. She pointed out that they weren't so moral either (they simply hid their indiscretions from others) by exposing those indiscretions at a P.T.A. meeting. The TV show was basically a continuation of her fighting against their hypocracy by doing as she pleased and shocking them by her actions.
Cast
Barbara Eden .... Stella Johnson
Jenn Thompson .... Dee Johnson
Anne Francine .... Flora Simpson Reilly
Fannie Flagg .... Cassie Bowman
Rod McCary .... Bobby Taylor
Christopher Stone .... Tom Meechum
Suzi Dean .... Scarlett Taylor
George Gobel .... Mayor Otis Harper, Jr.
Bridget Hanley .... Wanda Reilly Taylor
Mills Watson .... Winslow Homer "Uncle Buster" Smith
Gary Allen .... Norman Clayton
Kevin Scannell .... Coach Burt Powell
Victor Dunlop .... George Kelly
Mari Gorman .... Vivian Washburn
Edie McClurg .... Willamae Jones
Robert Gray .... Cliff Willoughby
Episodes List With Original Air Dates
Season 1

To Dunk Or Not To Dunk (1/16/1981)
A Husband For Stella (1/23/1981)
Mail And Female (1/30/1981)
Don Juan & Two (2/6/1981)
The Life Of Reilly (2/13/1981)
Stella, The Reilly Girl (2/20/1981)
Moonlighting Becomes You (3/6/1981)
A Tree Grows In Harper Valley (3/13/1981)
Dirty Tricks (3/20/1981)
Stella And Howard (3/27/1981)
Mayor Bobby (4/3/1981)
My Fair Stella (4/17/1981)
Bad Day At Harper Valley (4/24/1981)
Season 2
NOTE: Name of show changed to "Harper Valley". PTA was dropped.

Make Room For Uncle Buster (10/29/1981)
Good For The Goose ... Sauce For The Gander (11/5/1981)
Reunion Fever (11/12/1981)
$500 Dollar Misunderstanding (11/19/1981)
Stella's Scam (12/3/1981)
Flora's Dinner Party (12/10/1981)
I'm Dreaming Of A Harper Valley Christmas (12/19/1981)
Low Noon (1/9/1982)
The Show Must Go On (1/16/1982)
Svengali Of The Valley (1/23/1982)
Firechief Follies (1/30/1982)
Harper Valley Cowboy (2/6/1982)
Stella Della (2/13/1982)
Stella Rae (2/27/1982)
Harper Valley Hoedown (3/27/1982)
Grizzly Gap (3/3/1982)
The Return Of Charlie's Chow Palace (4/24/1982)
Harper Valley Sentinal (5/1/1982)
Find Thousands of
Your Favorite
Shows

By Starting Letter
A B C D E F G
H I J K L M N
O P Q R S T U
V W X Y Z
Thank you for visiting our Harper Valley PTA page!
Copyright © 1997-Present CrazyAboutTV.com
All rights reserved