Search CrazyAboutTV for your
favorite show or your
favorite star!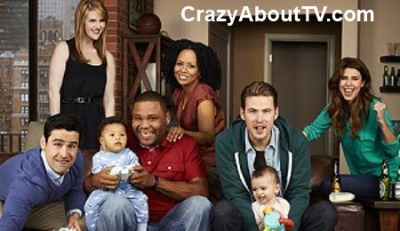 Series Description
Guys With Kids is a 30 minute comedy series on NBC about three guys who make fatherhood fun! One of the guys is a single dad who uses his child to hit on hot women. Another is a father in a traditional marriage and the third is a stay-at-home dad. These are not your manly men of the 1950s. These are 21st century daddies who talk baby talk to their youngsters and often act like a kiddie themselves.
Guys With Kids Cast
Anthony Anderson .... Gary
Zach Cregger .... Nick
Jesse Bradford .... Chris
Jamie-Lynn Sigler .... Emily
Tempestt Bledsoe .... Marny
Guys With Kids Trivia
This series was originally pitched to NBC under the title "DILFs", an acronym for "Dads I'd Like to (expletive deleted)". You know ... the male equivalent of "MILFs". NBC couldn't live with that title so it was changed to the much more politically correct, "Guys With Kids".
Episodes List With Original Air Dates
Season 1

Pilot Episode (9/12/2012)
Chris' New Girlfriend (9/26/2012)
Marny Wants A Girl (10/3/2012)
The Standoff (10/10/2012)
Gary's Day Off (10/17/2012)
Apartment Halloween (10/24/2012)
The Bathroom Incident (10/31/2012)
First Birthday (11/14/2012)
Thanksgiving (11/21/2012)
Christmas (12/5/2012)
First Word (1/2/2013)
Marny's Dad (1/9/2013)
Me Time (1/30/2013)
The Will (2/6/2013)
Gary's Idea (2/13/2013)
Rare Breed (2/20/2013)
Divorce Party (2/27/2013)
Find Thousands of
Your Favorite
Shows

By Starting Letter
A B C D E F G
H I J K L M N
O P Q R S T U
V W X Y Z
Thank you for visiting our Guys With Kids page!
Copyright © 1997-Present CrazyAboutTV.com
All rights reserved