Search CrazyAboutTV for your
favorite show or your
favorite star!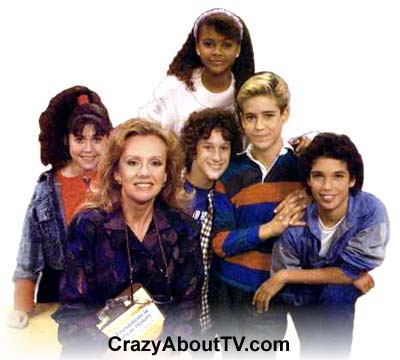 Series Description
The Good Morning, Miss Bliss TV show was a comedy series about a dedicated teacher who really cared about her students education and their other problems. Most of the episodes were about the students getting into (and hopefully out of) some jam and Miss Bliss offering supervision and support to help them out.
Cast
Hayley Mills .... Mrs. Carrie Bliss
Mark-Paul Gosselaar .... Zack Morris
Dustin Diamond .... Samuel "Screech" Powers
Lark Voorhies .... Lisa Turtle
Dennis Haskins .... Mr. Richard Belding
Heather Hopper .... Nicole "Nikki" Coleman
Max Battimo .... Mikey Gonzalez
Joan Ryan .... Tina Palidrino
T.K. Carter .... Milo Williams
Trivia
This series got its title from NBC President "Brandon Tartikoff's" eighth grade history teacher (Miss Bliss). He stated that she was his inspiration for the series.
Good Morning, Miss Bliss is often referred to today as "Saved by the Bell: The Jr. High Years".
The school was John F. Kennedy Junior High School in Indianapolis, Indiana.
Good Morning, Miss Bliss produced numerous "spin-off" series titled, "Saved by the Bell", "Saved by the Bell: The College Years", and "Saved by the Bell: The New Class".
Good Morning, Miss Bliss aired on the Disney Channel. It's "spinoff" series all aired on NBC.
Only four Cast when Good Morning, Miss Bliss changed to "Saved By The Bell". They were Mark-Paul Gosselaar (Zack Morris), Dustin Diamond (Screech Powers), Lark Voorhies (Lisa Turtle), and Dennis Haskins (Mr. Belding).
Episodes of Good Morning, Miss Bliss are often shown in syndication along with episodes of "Saved by the Bell". When that happens, Mark-Paul Gosselaar (as Zack Morris) explains, before the episode begins, that this show takes place back when he and the gang were in Jr. High School.
Episodes List With Original Air Dates
The First And Only Season

Summer Love (11/30/1988)
Love Letters (12/7/1988)
Wall Street (12/14/1988)
Leaping To Conclusions (12/21/1988)
Parents And Teachers (12/28/1988)
The Showdown (1/4/1989)
Save The Last Dance For Me (2/4/1989)
The Boy Who Cried Rat (2/11/1989)
Let's Get Together (2/18/1989)
Practical Jokes (2/25/1989)
Stevie (3/4/1989)
Clubs And Cliques (3/11/1989)
The Mentor (3/18/1989)
Find Thousands of
Your Favorite
Shows

By Starting Letter
A B C D E F G
H I J K L M N
O P Q R S T U
V W X Y Z
Thank you for visiting our Good Morning, Miss Bliss page!
Copyright © 1997-Present CrazyAboutTV.com
All rights reserved