Search CrazyAboutTV for your
favorite show or your
favorite star!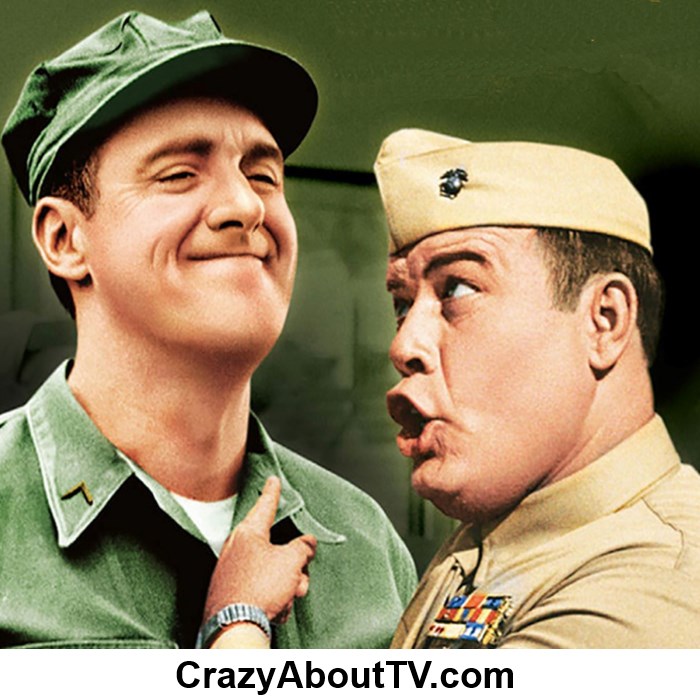 Series Description
Gomer Pyle U.S.M.C. was a 30 minute comedy series on CBS that also happened to be a "spinoff" of the "Andy Griffith Show (1960)". On that program Gomer Pyle was a gas station attendant in the town where Andy was the Sheriff. Then one day, Gomer decided to join the Marine Corps. Jim Nabors played the same charachter on both shows. Gomer Pyle was the nicest person you'd ever want to know but he was not too bright. His ineptitude caused him to get into lots of trouble but everything usually turned out all right in the long run. Gomer was particularly annoying to his Sergeant because even though he consistently got into trouble, the Sergeant knew that Gomer just couldn't help himself.
Gomer Pyle Cast
Jim Nabors .... Private Gomer Pyle
Frank Sutton .... Sergeant Vincent Carter
Roy Stuart .... Corporal Chuck Boyle
Ronnie Schell .... Private/Corporal Gilbert "Duke" Slater
Ted Bessell .... Private Frankie Lombardi
Allan Melvin .... Sergeant Charley Hacker
Larry Hovis .... Private Larry Gotschalk
Barbara Stuart .... Bunny Wilson
Tommy Leonetti .... Corporal Nick Cuccinelli
Forrest Compton .... Colonel Edward Gray
William Christopher .... Private Lester Hummel
Elizabeth MacRae .... Lou-Ann Poovie
Gomer Pyle Trivia
Gomer Pyle U.S.M.C. was a "spin-off" of the series, "The Andy Griffith Show".
Jim Nabors has had some jobs that required his appearance each year. Carol Burnett had him on the first episode of the "Carol Burnett Show" each season it aired. She felt that he was her good luck charm. Jim also sang the song, "Back Home Again In Indiana" each year at the opening ceremonies for the Indianapolis 500 race!
Barbara Stuart who eventually played the role of Sergeant Carter's girlfriend "Bunny", had also appeared on the TV show earlier as "Hannah, The Dragon Lady" on episode #8, "Gomer And The Dragon Lady".
Forrest Compton who eventually played the role of "Colonel Gray", had previously appeared on Gomer Pyle U.S.M.C. as a Captain.
Jim Nabors was nothing like his Gomer Pyle character. He had a Bachelor of Science degree in Business Administration from the University of Alabama. He used that business ability to his favor too! He negotiated a partial ownership of the Gomer Pyle U.S.M.C. TV show, thereby, sharing in the profits. He also used his business abilities and his popularity as Gomer Pyle to aid his singing career. He produced more than 45 of his own easy listening albums with five going gold and one even went platinum! Jim had to mostly give up his performing career due to years of illness due to a bad liver. He eventually had a liver transplant. He started a new life in Hawaii where he operated a macadamia nut plantation.
Gomer Pyle was stationed at Camp Henderson in California.
Sergeant Carter may have been somewhat IQ challenged, but the same can't be said for Frank Sutton who portrayed him. Frank graduated cum laude from Columbia University with a degree in dramatic arts! By the way, Frank was also a radio announcer during World War II and he had a black belt in Judo!
Find Thousands of
Your Favorite
Shows

By Starting Letter
A B C D E F G
H I J K L M N
O P Q R S T U
V W X Y Z
Thank you for visiting our Gomer Pyle USMC page!
Copyright © 1997-Present CrazyAboutTV.com
All rights reserved