Search CrazyAboutTV for your
favorite show or your
favorite star!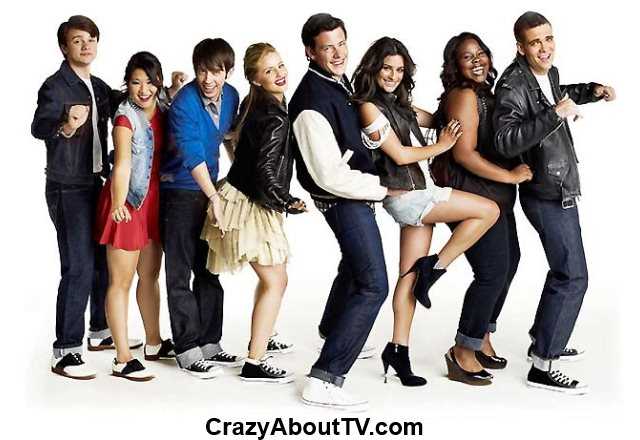 Series Description
The Glee TV show is a 60 minute musical comedy series that aired from September 2, 2009 to March 20, 2015 for a total of 121 episodes on FOX. It's about a high school that used to have one of the top Glee Clubs in the world but had degraded down to the bottom of the list. Then a Spanish teacher motivated the "loser" students in the Glee Club to excel and return the club to its former glory!
Glee Cast
Jane Lynch .... Sue Sylvester
Chris Colfer .... Kurt Hummel
Dianna Agron .... Quinn Fabray
Matthew Morrison .... Will Schuester
Jayma Mays .... Emma Pillsbury
Lea Michele .... Rachel Berry
Kevin McHale .... Artie Abrams
Cory Monteith .... Finn Hudson
Jenna Ushkowitz .... Tina Cohen-Chang
Naya Rivera .... Santana Lopez
Mark Salling .... Noah "Puck" Puckerman
Amber Riley .... Mercedes Jones
Heather Morris .... Brittany Pierce
Harry Shum Jr. .... Mike Chang
Iqbal Theba .... Principal Figgins
Mike O'Malley .... Burt Hummel
Darren Criss .... Blaine Anderson (2010-)
Chord Overstreet .... Sam Evans (2010-)
Lauren Potter .... Becky Jackson
Dot Jones .... Shannon Beiste (2010-)
Max Adler .... Dave Karofsky
Jessalyn Gilsig .... Terri Schuester (2009-2011)
Ashley Fink .... Lauren Zizes (2010-2011)
Ian Brennan .... Narrator
Glee Trivia
While Glee premiered on September 2, 2009 with the pilot episode, that was actually the "Director's Cut" version. The pilot had previously aired on May 19, 2009.
Find Thousands of
Your Favorite
Shows

By Starting Letter
A B C D E F G
H I J K L M N
O P Q R S T U
V W X Y Z
Thank you for visiting our Glee TV show page!
Copyright © 1997-Present CrazyAboutTV.com
All rights reserved