Search CrazyAboutTV for your
favorite show or your
favorite star!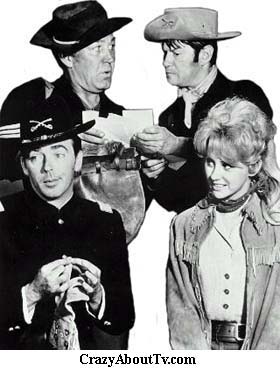 Series Description
The F Troop TV show was a 30 minute situation comedy series on ABC about a Private who is given a field promotion to Captain and given command of Fort Courage. The problem is that he got his promotion and command because he accidentally "saved the day" when he led a cavalry charge in the wrong direction. That pretty much continues to be the theme of the show throughout the series run. Captain Parmenter keeps goofing up and comes out smelling like a rose.
F Troop Cast
Ken Berry .... Captain Wilton Parmenter
Forrest Tucker .... Sergeant Morgan O'Rourke
Larry Storch .... Corporal Randolph Agarn
Melody Patterson .... Wrangler Jane
James Hampton .... Trooper Hannibal Dobbs
Joe Brooks .... Trooper Vanderbilt
Bob Steele .... Trooper Duffy
Frank DeKova .... Chief Wild Eagle
Don Diamond .... Crazy Cat
Theme Song
Title: "F Troop"
By: "Irving Taylor and William Lava"
The end of the Civil War was near
When quite accidentally,
A hero who sneezed abruptly seized
Retreat and reversed it to victory.
His medal of honor pleased and thrilled
his proud little family group.
While pinning it on some blood was spilled
And so it was planned he'd command F Troop.
Where Indian fights are colorful sights
and nobody takes a lickin'
Where pale face and redskin
Both turn chicken.
When killing and fighting get them down,
They know their morale can't droop.
As long as they all relax in town
Before they resume with a bang and a boom
F Troop.
Episodes List With Original Air Dates
Season 1

Scourge Of The West (9/14/1965)
Don't Look Now but One Of Our Cannons is Missing (9/21/1965)
The Phantom Major (9/28/1965)
Corporal Agarn's Farewell to The Troops (10/5/1965)
The Return Of Bald Eagle (10/12/1965)
Dirge For The Scourge (10/19/1965)
The Girl From Philadelphia (10/26/1965)
Old Iron Pants (11/2/1965)
Me Heap Big Injun (11/9/1965)
She's Only a Build in an Girdled Cage (11/16/1965)
A Gift From The Chief (11/23/1965)
Honest Injun (11/30/1965)
O'Rourke vs. O'Reilly (12/7/1965)
The 86 Proof Spring (12/14/1965)
Here Comes The Tribe (12/21/1965)
Iron Horse Go Home (12/28/1965)
Our Hero, What's His Name? (1/4/1966)
Wrongo Starr and The Lady in Black (1/11/1966)
El Diablo (1/18/1966)
Go For Broke (1/25/1966)
The New I.G. (2/8/1966)
Spy, Counterspy, Counter Counterspy (2/15/1966)
The Courtship Of Wrangler Jane (2/22/1966)
Play, Gypsy, Play (3/1/1966)
Reunion For O'Rourke (3/8/1966)
Captain Parmenter, One Man Army (3/15/1966)
Don't Ever Speak to Me Again (3/22/1966)
Too Many Cooks Spoil The Troop (3/29/1966)
Indian Fever (4/5/1966)
Johnny Eagle Eye (4/12/1966)
A Fort's Best Friend is Not a Mother (4/19/1966)
Lieutenant O'Rourke, Front and Center (4/26/1966)
The Day The Indians Won (5/3/1966)
Will The Real Captain Try to Stand Up? (5/10/1966)
Season 2
The Singing Mountie (9/8/1966)
How To Be F Troop Without Really Trying (9/15/1966)
Bye, Bye, Balloon (9/22/1966)
Reach For The Sky, Pardner (9/29/1966)
The Great Troop Robbery (10/6/1966)
The West Goes Ghost (10/13/1966)
Yellow Bird (10/20/1966)
The Ballot Of Corporal Agarn (10/27/1966)
Did Your Father Come from Ireland? (11/3/1966)
For Whom The Bugle Tolls (11/10/1966)
Miss Parmenter (11/17/1966)
La Dolce Courage (11/24/1966)
Wilton The Kid (12/1/1966)
The Return Of Wrongo Starr (12/8/1966)
Survival Of The Fittest (12/15/1966)
Bring on The Dancing Girls (12/22/1966)
The Loco Brothers (12/29/1966)
From Karate With Love (1/5/1967)
The Sergeant And The Kid (1/12/1967)
Where Are You Doing After The Massacre? (1/19/1967)
A Horse Of Another Color (1/26/1967)
V Is For Vampire (2/2/1967)
That's Show Biz (2/9/1967)
The Day They Shot Agarn (2/16/1967)
Only One Russian Is Coming! Only One Russian Is Coming! (2/23/1967)
Guns, Guns, Who's Got The Guns? (3/2/1967)
Marriage, Fort Courage Style (3/9/1967)
Carpetbagging, Anyone? (3/16/1967)
The Majority Of Wilton (3/23/1967)
Our Brave In F Troop (3/30/1967)
Is This Fort Really Necessary? (4/6/1967)
Find Thousands of
Your Favorite
Shows

By Starting Letter
A B C D E F G
H I J K L M N
O P Q R S T U
V W X Y Z
Thank you for visiting our F Troop TV show page!
Copyright © 1997-Present CrazyAboutTV.com
All rights reserved