Search CrazyAboutTV for your
favorite show or your
favorite star!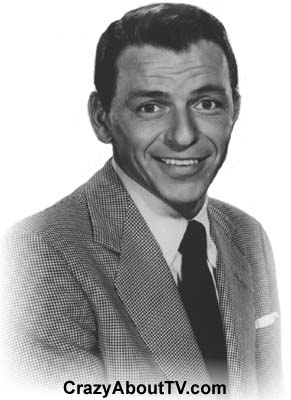 Series Description
The Frank Sinatra Show was a drama AND musical series on ABC featuring performances by Frank and his well-known guests. Episodes either had non-musical guests appearing in dramatic mini-plays or they were musical in nature with Frank and other musical stars of the day singing their hearts out!
Host:
Frank Sinatra
Trivia
Frank Sinatra was, to say the least, multi-talented! Most people are aware of his singing, TV, and movie careers. Frank also had a very busy career on the radio! In addition to making numerous guest appearances on the radio, he also starred as a private detective on a series titled, The "Rocky Fortune radio show"!
Episodes List With Original Air Dates
Season 1

Bob Hope, Kim Novak and Peggy Lee (10/18/1957)
That Man Hogan (Reba Waters) (10/25/1957)
Nancy Sinatra (11/1/1957)
Peggy Lee (11/8/1957)
McGuire Sisters (11/15/1957)
A Gun at His Back (11/22/1957)
Dean Martin (11/29/1957)
Pamela Light and 8 Songs By Frank (12/6/1957)
Take Me to Hollywood (12/13/1957)
Bing Crosby (12/20/1957)
The Feeling is Mutual (12/27/1957)
Dinah Shore (1/3/1958)
Robert Mitchum (1/10/1958)
Louis Prima and Keely Smith (1/17/1958)
Jo Stafford (1/24/1958)
Sammy Davis, Jr. (1/31/1958)
Jeannie Carson (2/7/1958)
Shirley Jones (2/14/1958)
A Time to Cry (Anne Bancroft and Lloyd Bridges) (2/21/1958)
Van Johnson (2/28/1958)
Edie Adams and Stan Freberg (3/7/1958)
Eydie Gorme and Joey Bishop (3/14/1958)
A Man on the Stairs (3/21/1958)
Eddie Fisher (3/28/1958)
Spike Jones (4/4/1958)
The Brownstone Incident (Cloris Leachman and Jack Albertson) (4/18/1958)
Ethel Merman (4/25/1958)
Ella Fitzgerald (5/9/1958)
The Green Grass of St. Theresa (Wally Cox) (5/16/1958)
Natalie Wood and Pat Suzuki (5/23/1958)
A Face of Fear (5/30/1958)
The Seedling Doubt (Macdonald Carey) (6/6/1958)
TV Specials
The Frank Sinatra Timex Show (Bing Crosby / Dean Martin / Jimmie Durante / Mitzi Gaynor)(10/15/1959) An Afternoon With Frank Sinatra (Ella Fitzgerald / Juliet Prowse / Peter Lawford) (12/13/1959) Here's To The Ladies (Lena Horne / Juliet Prowse) (2/15/1960) Welcome Home Elvis (Peter Lawford / Sammy Davis Jr. / Joey Bishop / Elvis Presley) (5/12/1960)
Find Thousands of
Your Favorite
Shows

By Starting Letter
A B C D E F G
H I J K L M N
O P Q R S T U
V W X Y Z
Thank you for visiting our The Frank Sinatra Show page!
Copyright © 1997-Present CrazyAboutTV.com
All rights reserved