Search CrazyAboutTV for your
favorite show or your
favorite star!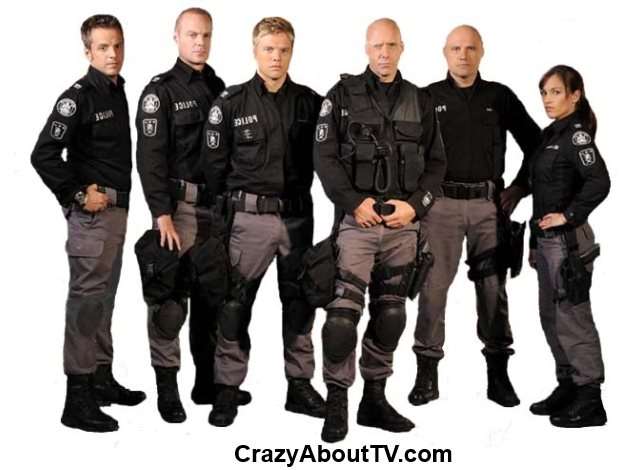 Series Description
Flashpoint is a 60 minute Canadian crime action series on CTV about an elite tactical police unit that deals with the most hazardous situations including hostage rescue, bomb defusing, snipers, kidnappings and gang violence.
Flashpoint Cast
Enrico Colantoni .... Sergeant Gregory Parker (2008-)
Amy Jo Johnson .... Jules Callaghan (2008-)
Hugh Dillon .... Ed Lane (2008-)
David Paetkau .... Sam Braddock (2008-)
Sergio Di Zio .... Mike Scarlatti (2008-2011)
Michael Cram .... Kevin "Wordy" Wordsworth (2008-2011)
Tattiawna Jones .... Winnie Camden (2009-2011)
Mark Taylor .... Lewis Young (2008-2009)
Cle Bennett .... Raf Rousseau (2009-2011)
Ruth Marshall .... Dr. Amanda Luria (2008-2009)
Janaya Stephens .... Sophie Lane (2008-2011)
Jessica Steen .... Donna Sabine (2009-2011)
Tyler Stentiford .... Clark Lane (2008-2011)
Flashpoint Trivia
The unit of elite cops on Flashpoint is called the Strategic Response Unit or simply the "SRU".
Before arriving at the permanent series title, "Flashpoint", titles used during initial production included "Sniper" and "Critical Incident".
Flashpoint is based on the Toronto Police Department's "Emergency Task Force".
Enrico Colantoni ("Veronica Mars" and "Just Shoot Me") was born in Toronto. Another reason that he might want to star on Flashpoint is that his brother spent thirty years on the Toronto Police Force.
All of the main cast members on Flashpoint are Canadians except for Amy Jo Johnson who was born and raised about 325 miles from the Canadian border in Cape Cod, Massachusetts.
Episodes List With Original Air Dates
Season 1

Scorpio (7/11/2008)
First In Line (7/18/2008)
The Element of Surprise (7/24/2008)
Asking for Flowers (7/31/2008)
Who's George (8/7/2008)
Attention Shoppers (8/14/2008)
He Knows His Brother (8/21/2008)
Never Kissed a Girl (9/11/2008)
Planets Aligned (9/18/2008)
Season 2
Eagle Two (1/9/2009)
Backwards Day (1/16/2009)
Haunting the Barn (1/23/2009)
Between Heartbeats (2/13/2009)
Business as Usual (2/27/2009)
The Fortress (3/6/2009)
Clean Hands (3/13/2009)
Aisle 13 (4/3/2009)
The Perfect Family (4/10/2009)
Remote Control (4/24/2009)
Perfect Storm (5/1/2009)
Last Dance (5/8/2009)
Exit Wounds (5/15/2009)
One Wrong Move (9/25/2009)
Never Let You Down (10/2/2009)
Just a Man (10/9/2009)
Custody (10/16/2009)
Coming to You Live (10/23/2009)
The Farm (10/30/2009)
You Think You Know Someone (11/6/2009)
The Good Citizen (11/13/2009)
Behind the Blue Line (11/20/2009)
Season 3
Unconditional Love (7/16/2010)
Severed Ties (8/6/2010)
Follow The Leader (8/13/2010)
Whatever It Takes (8/20/2010)
The Other Lane (9/3/2010)
Jumping at Shadows (9/10/2010)
Acceptable Risk (9/17/2010)
Collateral Damage (1/4/2011)
Thicker Than Blood (1/11/2011)
Terror (1/18/2011)
No Promises (1/25/2011)
I'd Do Anything (2/1/2011)
Fault Lines (2/6/2011)
Season 4
Personal Effects (7/8/2011)
Good Cop (7/15/2011)
Run, Jamie, Run (7/22/2011)
Through A Glass Darkly (7/29/2011)
The Better Man (8/5/2011)
A Day In The Life (8/12/2011)
Shockwave (8/19/2011)
Grounded (9/19/2011)
The War Within (9/27/2011)
Cost of Doing Business (10/4/2011)
Wild Card (10/11/2011)
A New Life (11/1/2011)
A Call To Arms (11/8/2011)
Day Game (11/15/2011)
Blue on Blue (11/22/2011)
Team Player (11/29/2011)
Priority of Life (12/6/2011)
Slow Burn (12/13/2011)
Season 5
Broken Peace (9/20/2012)
No Kind of Life (9/27/2012)
Run To Me (10/4/2012)
Eyes In (10/11/2012)
Sons of the Father (10/18/2012)
Below the Surface (10/25/2012)
Forget Oblivion (11/1/2012)
We Take Care of Our Own (11/8/2012)
Lawmen (11/15/2012)
A World of Their Own (11/22/2012)
Fit for Duty (11/29/2012)
Keep the Peace - Part 1 (12/6/2012)
Keep the Peace - Part 2 (12/13/2012)
The Final Salute (Special) (12/13/2012)
Find Thousands of
Your Favorite
Shows

By Starting Letter
A B C D E F G
H I J K L M N
O P Q R S T U
V W X Y Z
Thank you for visiting our Flashpoint page!
Copyright © 1997-Present CrazyAboutTV.com
All rights reserved