Search CrazyAboutTV for your
favorite show or your
favorite star!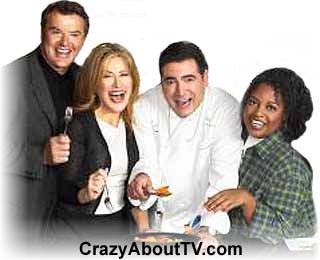 Series Description
Emeril was a 30 minute comedy series on NBC about a very popular cooking show and the interactions between chef Emeril and his working associates. The show was so successful that Emeril had little time left for his family, creating friction with his wife and 3 children.
Emeril Cast
Emeril Lagasse .... Emeril Lagasse
Lisa Ann Walter .... Cassandra Gilman
Sherri Shepherd .... Melva LeBlanc
Robert Urich .... Jerry McKenney
James Lafferty .... James Lagasse
Carrie Preston .... B.D. Benson
Mary Page Keller .... Nora Lagasse
Tricia O'Kelley .... Trish O'Connell
Emeril Trivia
There was an Emeril pilot produced to sell the Emeril TV Show to NBC. That episode was not broadcast.
Robert Urich starred in a few other short-lived TV series like Emeril but most fans will remember him from his more popular series, "S.W.A.T.", Vega$", and "Spenser for Hire".
There were three episodes that were produced but did not originally air after Emeril was canceled. Their titles were "Snow Day", "The Retreat", and "One Man's Cornbread".
Episodes List With Original Air Dates
The First And Only Season

Fat (9/25/2001)
Fifteen Minutes (10/2/2001)
Blind Dates (10/9/2001)
Whose Life is It Anyway? (10/16/2001)
The Sopranos Come to Dinner (10/23/2001)
Halloween (10/30/2001)
The Sidekick (12/11/2001)
Find Thousands of
Your Favorite
Shows

By Starting Letter
A B C D E F G
H I J K L M N
O P Q R S T U
V W X Y Z
Thank you for visiting our Emeril TV show page!
Copyright © 1997-Present CrazyAboutTV.com
All rights reserved