Search CrazyAboutTV for your
favorite show or your
favorite star!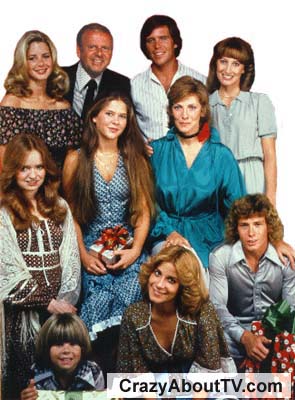 Series Description
The Eight is Enough TV show was a 60 minute family drama series on ABC about a middle class man who lost his wife but still had to deal with raising eight children in Sacramento, California. He met a school teacher who fell in love with him and his house full of kids so they married. Of course, there would be some resentment of the new mom but she remained strong and was "there for" the children so they soon came to love her too.
Eight is Enough Cast
Dick Van Patten .... Tom Bradford
Betty Buckley .... Sandra Sue "Abby" Abbott
Adam Rich .... Nicholas Bradford
Willie Aames .... Tommy Bradford
Connie Needham .... Elizabeth Bradford
Dianne Kay .... Nancy Bradford
Susan Richardson .... Susan Bradford Stockwell
Laurie Walters .... Joannie Bradford
Lani O'Grady .... Mary Bradford
Grant Goodeve .... David Bradford
Joan Prather .... Janet Bradford
Diana Hyland .... Joan Bradford (1st 4 episodes)
Eight is Enough Trivia
The idea for the Eight Is Enought TV show was from a autobiography about the life of Thomas Braden, also titled, "Eight Is Enough". All of the characters' first names on the show are the same as Thomas' family's real first names! He was a newspaper columnist, editor, and one time host on CNN's "Crossfire" program. Thomas' wife, in addition to mothering eight children, was a magazine writer, television interviewer, public relation executive, and even served as an aide to President John F. Kennedy!
Diana Hyland who originally played Tom Bradford's wife, Joan Bradford, died from breast cancer after filming only the first 4 episodes. Four more episodes were produced where her disappearance was explained simply by saying that she was "away". Then, when Eight Is Enough returned in the fall, the storyline changed with Tom Bradford being a widower whose wife had died approximately a year earlier.
In episode #11, "Trial Marriage", Betty Buckley (Abby) appeared for the first time as a guest star in the role of a tutor who helped Tommy with his schoolwork after he broke a foot and couldn't attend classes. By episodes 17 and 18, "Childrend of the Groom - Parts 1 & 2", the attraction has been made, love has bloomed, a wedding has been planned, and the marriage takes place. Pretty fast work, huh? Producers wanted a fast transition back to the original storyline of a married couple raising "their" eight children.
Tom's new wife Abby had lost her first husband in the Vietnam war.
Eight is Enough's theme song with lyrics (see below) didn't actually appear until the third season. For the first two seasons, the series simply had music for its theme. By the way, note that the singer of the theme lyrics was Grant Goodeve who played David Bradford on the show.
Mark Hamill actually played the role of David Bradford in the Eight is Enough pilot and then went on to a busy movie career, appearing as Luke Skywalker in the first Star Wars movie which came to theaters the same year as Eight is Enough debuted.
When Mary Bradford attended medical school, she did so at the University of California at Berkely.
Tom Bradford got 33rd place in the June 20, 2004 issue of TV Guide magazine in their list titled, "The 50 Greatest TV Dads of All Time"!
Theme Song
Title: "Eight is Enough"
Written By: "Lee Holdridge and Ann Leiken"
Performed By: "Grant Goodeve"
Oh we spend our days like bright and shiny new dimes.
If we're ever puzzled by the changing times.
There's a plate of homemade wishes on the kitchen window sill,
And eight is enought to fill our lives with love.
Episodes List With Original Air Dates
Season 1

Never Try Eating Nectarines Since Juice May Dispense (Pilot) (3/15/1977)
Schussboomer (3/22/1977)
Pieces of Eight (3/29/1977)
Women, Ducks and the Domino Theory (4/5/1977)
Turnabout (4/12/1977)
Quarantine (4/19/1977)
V is for Vivian (4/26/1977)
Hit and Run (5/3/1977)
The Gipper Caper (Special) (8/10/1977)
Season 2
Is There a Doctor in the House? (9/14/1977)
Trial Marriage (9/21/1977)
Triangles (9/28/1977)
Double Trouble (10/5/1977)
Mortgage Burnin' Blues (10/19/1977)
Dark Horse (10/26/1977)
The Bard and the Bod (11/2/1977)
Children of the Groom - Part 1 (11/9/1977)
Children of the Groom - Part 2 (11/9/1977)
I Quit (11/16/1977)
All's Fair in Love and War (11/23/1977)
The Return of Auntie V (11/30/1977)
Yes Nicholas, there is a Santa Claus - Part 1 (12/14/1977)
Yes Nicholas, there is a Santa Claus - Part 2 (12/14/1977)
Dear Ms. Dinah (1/25/1978)
A Hair of the Dog (1/4/1978)
Author, Author! (1/11/1978)
Much Ado about Garbage (1/18/1978)
Hard Hats and Hard Heads (2/1/1978)
Seven Days in February (2/8/1978)
The Boyfriend (2/15/1978)
Great Expectations (2/22/1978)
Long Night's Journey into Day (3/1/1978)
The Lost Weekend (4/28/1978)
Poor Little Rich Girl (5/3/1978)
Who's on First? (5/10/1978)
Season 3
Who's Crazy Here? (9/6/1978)
Nine Is Too Much (9/13/1978)
Here We Go Again (9/20/1978)
Cinderella's Understudy (9/27/1978)
Milk and Sympathy (10/11/1978)
The Flunked and the Funked (10/18/1978)
Cops and Toddlers (10/25/1978)
The Hipbone's Connected to the Thighbone (11/1/1978)
Fast and Loose (11/8/1978)
War Between the Bradfords (11/15/1978)
All The Vice President's Men (11/22/1978)
You Won't Have Nicholas to Kick Around Anymore - Part 1 (11/29/1978)
You Won't Have Nicholas to Kick Around Anymore - Part 2 (11/29/1978)
Alone At Last (12/6/1978)
The Yearning Point (12/13/1978)
Moving Out (1/3/1979)
Mother's Rule (1/10/1979)
Inlaws and Outlaws (1/17/1979)
Horror Story (1/24/1979)
Just The Ten of Us (1/31/1979)
Best of Friends (2/7/1979)
The Kid Who Came to Dinner (2/14/1979)
The Better Part of Valour (2/21/1979)
Dads, Daughters, Different Drummers (2/28/1979)
The Final Days (3/7/1979)
The Graduates (5/2/1979)
Marriage and Other Flights of Fancy - Part 1 (5/9/1979)
Marriage and Other Flights of Fancy - Part 2 (5/9/1979)
Season 4
Merle the Pearl (9/5/1979)
The Cupid Crisis (9/12/1979)
I Do, I Do, I Do, I Do (9/19/1979)
Ten Ships in the Night (9/26/1979)
The Devil and the Mr. Bradford (10/3/1979)
Big Shoes, Little Feet (10/24/1979)
Fathers and Other Strangers - Part 1 (10/31/1979)
Fathers and Other Strangers - Part 2 (11/7/1979)
Letter to One Bradford (11/14/1979)
Separate Ways (11/21/1979)
Arrivals (11/28/1979)
The Night They Raided Bradfords (12/3/1979)
Brotherhood, Sisterhood (12/5/1979)
Mary, He's Married (12/12/1979)
My Son, The Prom Queen (1/9/1980)
The Courage To Be (1/16/1980)
Semi-Centennial Bradford (1/23/1980)
The Commitment (1/30/1980)
Seven More Days in February (2/6/1980)
The Return of Joe Simons (2/13/1980)
Bradford vs. Bradford (2/27/1980)
Memories (3/5/1980)
Official Positions (3/19/1980)
A Matter of Mentors (3/26/1980)
Roll Over Bradford (4/2/1980)
A Little Triangle (4/9/1980)
Grad Night (Finally) (4/30/1980)
Season 5
And Baby Makes Nine - Part 1 (10/29/1980)
And Baby Makes Nine - Part 2 (10/29/1980)
Jeremy (11/5/1980)
Welcome to Memorial Dr. Bradford (11/12/1980)
Generations (11/19/1980)
Holly (11/26/1980)
Maltese Airline Bag (12/10/1980)
Strike (12/17/1980)
Bradfordgate (1/7/1981)
Darlene Dilemma (1/14/1981)
Second Thoughts (1/21/1981)
David's Rib (1/28/1981)
Vows (2/4/1981)
The Way We Were (3/4/1981)
If The Glass Slipper Fits (3/11/1981)
The Best Little Telethon in Sacramento (3/28/1981)
Yet Another Seven Days in February (4/4/1981)
Idolbreaker - Part 1 (4/11/1981)
Idolbreaker - Part 2 (4/18/1981)
Starting Over (5/9/1981)
Goals (5/16/1981)
Father Knows Best (5/23/1981)
TV Reunion Movies
Family Reunion (10/18/1987)
An Eight Is Enough Wedding (10/15/1989)
Find Thousands of
Your Favorite
Shows

By Starting Letter
A B C D E F G
H I J K L M N
O P Q R S T U
V W X Y Z
Thank you for visiting our Eight is Enough TV show page!
Copyright © 1997-Present CrazyAboutTV.com
All rights reserved