Search CrazyAboutTV for your
favorite show or your
favorite star!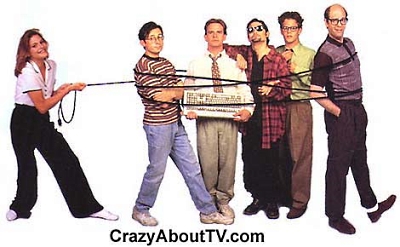 Series Description
The Dweebs TV show was a 30 minute comedy series on CBS.
Dweebs Cast
Peter Scolari .... Warren Mosbey
Farrah Forke .... Carey
Corey Feldman .... Vic
David Kaufman .... Morley
Stephen Tobolowsky .... Karl
Adam Biesk .... Todd
Dweebs Trivia
There were two episodes of Dweebs that were produced but were not broadcast due to early cancellation of the series. Their titles were, "The Karl's Crisis Show" and "The Actress Show".
Episodes List With Original Air Dates
Dweebs - The First And Only Season
Pilot Episode (9/22/1995)
The Privacy Show (9/29/1995)
The Birthday Party Show (10/6/1995)
The Cyrano Show (10/13/1995)
The Bad Back Show (10/20/1995)
The Crush Show (10/27/1995)
The Bad P.R. Show (11/3/1995)
Find Thousands of
Your Favorite
Shows

By Starting Letter
A B C D E F G
H I J K L M N
O P Q R S T U
V W X Y Z
Thank you for visiting our Dweebs TV show page!
Copyright © 1997-Present CrazyAboutTV.com
All rights reserved