Search CrazyAboutTV for your
favorite show or your
favorite star!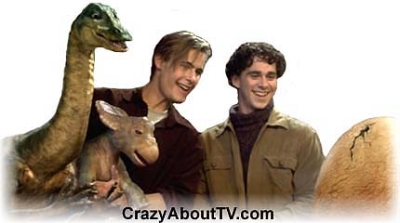 Series Description
Dinotopia was a 60 minute fantasy miniseries on ABC about two brothers who became marooned in a land where dinosaurs and people lived together peacefully.
Dinotopia Cast
Erik von Detten .... Karl Scott
Shiloh Strong .... David Scott
Michael Brandon .... Frank Scott
Georgina Rylance .... Marion Waldo
Jonathan Hyde .... Mayor Waldo
Sophie Ward .... Rosemary
Lisa Zane .... Le Sage
Dinotopia Trivia
Dinotopia actually began as a 3-part miniseries in May of 2002. Then in November of 2002, 6 episodes aired as a TV series.
There were an additional seven episodes of Dinotopia produced that never aired in the United States. There titles are: "Night of Wartosa", "LeSage", "Car Wars", "Lost and Found", "The Cure - Part 1", "The Cure - Part 2", and "Crossroads".

Episodes List With Original Air Dates
Dinotopia - The Miniseries
Part 1 (5/12/2002)
Part 2 (5/13/2002)
Part 3 (5/14/2002)
Dinotopia - The First And Only Season
Marooned (11/28/2002)
Making Good (11/28/2002)
Handful of Dust (12/5/2002)
Contact (12/12/2002)
The Matriarch (12/19/2002)
Big Fight (12/26/2002)
Find Thousands of
Your Favorite
Shows

By Starting Letter
A B C D E F G
H I J K L M N
O P Q R S T U
V W X Y Z
Thank you for visiting our Dinotopia page!
Copyright © 1997-Present CrazyAboutTV.com
All rights reserved