Search CrazyAboutTV for your
favorite show or your
favorite star!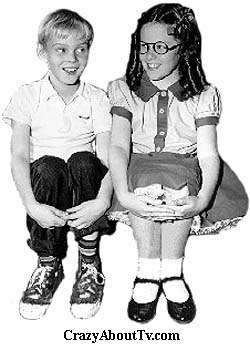 Series Description
The Dennis the Menace TV show was a 30 minute comedy series on CBS about a young boy who constantly got poor Mr. Wilson, his next door neighbor into trouble while trying to be a good boy, hence the nickname, "Menace".
Dennis The Menace Cast
Jay North .... Dennis Mitchell
Herbert Anderson .... Henry Mitchell
Gloria Henry .... Alice Mitchell
Joseph Kearns .... George Wilson
Sylvia Field .... Martha Wilson
Irene Tedrow .... Mrs. Lucy Elkins
Billy Booth .... Tommy Anderson
Jeannie Russell .... Margaret Wade
Willard Waterman .... Mr. Quigley
Dennis The Menace Trivia
The Dennis the Menace TV show was based upon the comic strip (same name) written by Hank Ketchum.
Dennis' poor next door neighbor, Mr. Wilson, was usually the victim of the "Menace's" troublemaking. Mrs. Wilson simply loved him, probably because the Wilsons never had any children. She would always encourage her husband to spend time with and be nice to the kid. When he did, he always ended out regretting it. And just when he was about to "blow his top" at Dennis, Mrs. Wilson would point out that he might be a menace, but his heart was in the right place.
Joseph Kearns (Mr. Wilson) died in 1962 before filming for the third season of Dennis The Menace was completed. On the show, the Wilsons moved away and George's brother John Wilson moved in to fill the void. Then, for the final season, John's wife appeared to provide the "grandmother" figure for Dennis.
Dennis the menace and his parents lived at 627 Elm Street.
Dennis the Menace ended in July of 1963 on CBS but reruns aired on NBC from October of 1963 to September of 1965. In 1988, an animated version of the show aired on CBS which lasted only nine months. In 1993, CBS aired another animated series titled, "The New Dennis the Menace" and that lasted one season.
Jay North got the part of Dennis the Menace by auditioning along with more than 500 other kids! While starring on the show, Jay was a "hot property", guest-starring on other sitcoms and variety shows. After Dennis the Menace ended, he got the lead role in the movie, "Maya (1966)" and in the short-lived TV show of the same name. Otherwise, his career pretty much came to an end due to his being typecast as Dennis. Jay had a terrible time making this transition from mega-star to "has-been". He supplied the voice for cartoon characters in the late 1960s, perhaps the best-known being "Bamm-Bamm" on "The Flintstones (1960)" but starring roles on television and film disappeared. After a series of divorces, weight gain and drug abuse, he finally recovered and became active in providing other TV and movie child stars with advice and support.
Episodes List With Original Air Dates
Season 1

Dennis Goes to the Movies (10/4/1959)
Dennis and the Signpost (10/11/1959)
The Fishing Trip (10/18/1959)
Grandpa and Miss Cathcart (10/25/1959)
Innocents in Space (11/1/1959)
Dennis' Garden (11/8/1959)
The New Neighbors (11/15/1959)
Tenting Tonight (11/22/1959)
Dennis Sells Bottles (11/29/1959)
Mr. Wilson's Award (12/6/1959)
The Christmas Story (12/20/1959)
Dennis and the Cowboy (12/27/1959)
Dennis Haunts a House (1/3/1960)
Dennis' Tree House (1/10/1960)
Dennis and the Rare Coin (1/17/1960)
Dennis and the Bike (1/24/1960)
Dennis and the Open House (2/7/1960)
Dennis and the Duck (2/14/1960)
Dennis and the Swing (2/21/1960)
Dennis and the Dog (2/28/1960)
Mr. Wilson's Sister (3/6/1960)
Dennis and the TV Set (3/13/1960)
Dennis Creates a Hero (3/20/1960)
Dennis' Paper Drive (4/10/1960)
Dennis and the Bees (4/17/1960)
Alice's Birthday (4/24/1960)
Dennis Becomes a Baby Sitter (5/1/1960)
Dennis and the Starlings (5/8/1960)
The Party Line (5/15/1960)
Dennis by Proxy (5/22/1960)
Dennis Runs Away (5/29/1960)
Miss Cathcart's Sunsuit (6/12/1960)
Season 2
Out of Retirement (10/2/1960)
Dennis and the Wedding (10/9/1960)
Dennis and the Radio Set (10/16/1960)
Dennis and the Ham-pher (10/23/1960)
The Stock Certificate (10/30/1960)
Man of the House (11/6/1960)
The Rock Collection (11/13/1960)
Henry and Togetherness (11/20/1960)
Paint-up, Clean-up Week (11/27/1960)
Dennis Learns to Whistle (12/4/1960)
The Raffle Ticket (12/18/1960)
The Christmas Horse (12/25/1960)
Dennis' Allowance (1/1/1961)
Dennis' Penny Collection (1/8/1961)
Dennis, the Campaign Manager (1/15/1961)
Miss Cathcart's Friend (1/22/1961)
Pythias Was a Piker (1/29/1961)
Dennis and the Saxophone (2/5/1961)
Wilson Sleeps Over (2/12/1961)
Dennis' Birthday (2/19/1961)
Dennis Goes to Camp (2/26/1961)
Dennis' Tool Chest (3/5/1961)
The Going Away Gift (3/12/1961)
Dennis and the Fishing Rod (3/19/1961)
Dennis and the Good Example (3/26/1961)
Dennis' Obligation (4/2/1961)
The Dog Trainer (4/9/1961)
Woodman, Spare That Tree (4/16/1961)
The Boy Wonder (4/23/1961)
The Soapbox Derby (4/30/1961)
Dennis and the Camera (5/7/1961)
Dennis and the Miracle Plant Food (5/14/1961)
Dennis' Newspaper (5/21/1961)
Mr. Wilson's Paradise (5/28/1961)
The Fortune Cookie (6/4/1961)
The Pioneers (6/11/1961)
Father's Day for Mr. Wilson (6/18/1961)
Dennis and the Picnic (6/25/1961)
Season 3
Trouble from Mars (10/1/1961)
Best Neighbor (10/8/1961)
Keep Off the Grass (10/15/1961)
Mr. Wilson's Safe (10/22/1961)
Haunted House (10/29/1961)
The School Play (11/5/1961)
The Fifty-Thousandth Customer (11/12/1961)
Dennis and the Pee Wee League (11/19/1961)
Mr. Wilson's Inheritance (11/26/1961)
Dennis Is a Genius (12/3/1961)
The Lucky Piece (12/17/1961)
The Fifteen Foot Christmas Tree (12/24/1961)
Dennis' Bank Account (12/31/1961)
Through Thick and Thin (1/7/1962)
Calling All Bird Lovers (1/14/1962)
Silence Is Golden (1/21/1962)
Dennis Has a Fling (1/28/1962)
Frog Jumping Contest (2/4/1962)
Where There's a Will (2/11/1962)
Mr. Wilson's Uncle (2/18/1962)
A Quiet Evening (2/25/1962)
The Private Eye (3/4/1962)
Mr. Wilson's Housekeeper (3/11/1962)
A Dog's Life (3/18/1962)
Dennis' Documentary Film (3/25/1962)
Horseless Carriage Club (4/1/1962)
Junior Pathfinders Ride Again (4/8/1962)
The Treasure Chest (4/15/1962)
Wilson Goes to the Dentist (4/29/1962)
The Man Next Door (5/6/1962)
Dennis and the Dodger (5/13/1962)
Dennis' Lovesick Friend (5/20/1962)
John Wilson's Cushion (5/27/1962)
John Wilson Wins a Chicken (6/3/1962)
The Bully (6/10/1962)
The Club Initiation (6/17/1962)
Community Picnic (6/24/1962)
Dennis and the Witch Doctor (7/1/1962)
Season 4
The Chinese Girl (9/30/1962)
You Go Your Way (10/7/1962)
Dennis and the Circular Circumstances (10/14/1962)
The Little Judge (10/21/1962)
Poor Mr. Wilson (10/28/1962)
Dennis in Gypsyland (11/4/1962)
The New Principal (11/11/1962)
San Diego Safari (11/18/1962)
Dennis at Boot Camp (11/25/1962)
Henry's New Job (12/2/1962)
Wilson's Second Childhood (12/16/1962)
Jane Butterfield Says (12/23/1962)
Dennis and the Hermit (12/30/1962)
My Uncle Ned (1/6/1963)
Junior Astronaut (1/13/1963)
Wilson's Little White Lie (1/20/1963)
Dennis, the Rain Maker (1/27/1963)
The Creature with the Big Feet (2/3/1963)
Dennis, the Confused Cupid (2/10/1963)
Dennis Goes to Washington (2/17/1963)
The Big Basketball Game (2/24/1963)
Wilson's Allergy (3/3/1963)
Baby Booties (3/10/1963)
My Four Boys (3/17/1963)
Dennis and the Homing Pigeons (3/24/1963)
A Tax on Cats (3/31/1963)
The Uninvited Guest (4/7/1963)
Dennis Plays Robin Hood (4/14/1963)
The Three F's (4/21/1963)
Never Say Dye (4/28/1963)
The Lost Dog (5/5/1963)
Tuxedo Trouble (5/12/1963)
Hawaiian Love Song (5/19/1963)
The Lucky Rabbit's Foot (5/26/1963)
Listen to the Mockingbird (6/2/1963)
First Editions (6/9/1963)
A Man Among Men (6/16/1963)
Aunt Emma Visits the Wilsons (7/7/1963)
Find Thousands of
Your Favorite
Shows

By Starting Letter
A B C D E F G
H I J K L M N
O P Q R S T U
V W X Y Z
Thank you for visiting our Dennis The Menace TV Show page!
Copyright © 1997-Present CrazyAboutTV.com
All rights reserved