Degrassi: The Next Generation
Search CrazyAboutTV for your
favorite show or your
favorite star!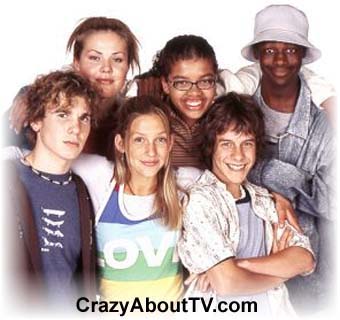 Series Description
The Degrassi: The Next Generation TV show is a 60 minute Canadian, teen drama series about a group of kids who go to the same school together and experience the problems that many teens face today including dating, alcohol/drug abuse, rape, and homosexuality issues.
Degrassi Cast
Miriam McDonald .... Emma Nelson
Cassie Steele .... Manny Santos
Lauren Collins .... Paige Michalchuk
Ryan Cooley .... James Tiberius "J.T." Yorke
Aubrey Graham .... Jimmy Brooks
Shane Kippel .... Gavin "Spinner" Mason
Jake Goldsbie .... Toby Isaacs
Sarah Barrable-Tishauer .... Liberty Van Zandt
Stacey Farber .... Ellie Nash (2002-2006)
Andrea Lewis .... Hazel Aden (2002-2006)
Jake Epstein .... Craig Manning (2002-2006)
Melissa McIntyre .... Ashley Kerwin (2001-2005)
Christina Schmidt .... Terri McGreggor (2001-2004)
Mike Lobel .... Jay Hogart (2003-2006)
Deanna Casaluce .... Alex Nunez (2003-2006)
Degrassi Trivia
Degrassi: The Next Generation is not considered to be a "spin-off" series of the other Degrassi series because no character from the older series became a regular character on The Next Generation". Five former characters have had recurring roles, however. They are Caitlin, Joey, Mr. Raditch, Spike, and Snake (Who has become Mr. Simpson). A few other characters also made one or two guest-starring appearances or were seen in cameos.
J.T.'s first and middle names "James Tiberius" were the same as those of "Captain Kirk" on the original 1966 version of "Star Trek".
Ironically, episodes #51 and 52, "Accidents Will Happen" was shown in Canada but not in the U.S. because they dealt with abortion. Then episode#67, "Time Stands Still - Part 2" had a viewer discretion advisory in Canada due to a school-shooting and there was no such advisory in the U.S.
Every season 2-6 episode title on Degrassi: The Next Generation was the name of a 1980s song!
Snake gives a speech to his class in episode #27, "White Wedding - Part 1" that begins: "Love ... exciting and new ...". Those are the theme lyrics for the 1977-1986 TV series, "The Love Boat"!
Find Thousands of
Your Favorite
Shows

By Starting Letter
A B C D E F G
H I J K L M N
O P Q R S T U
V W X Y Z
Thank you for visiting our Degrassi: The Next Generation page!
Copyright © 1997-Present CrazyAboutTV.com
All rights reserved