Search CrazyAboutTV for your
favorite show or your
favorite star!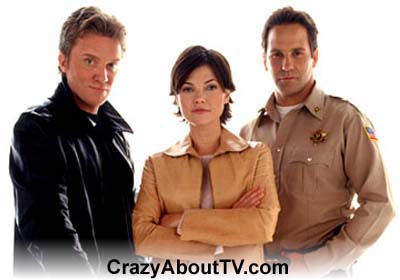 Series Description
The Dead Zone TV show was a 60 minute fantasy series on the USA Network about a man who found himself in critical condition and in a coma after being in an auto accident. He awakens six years later to find that the woman he was engaged to marry has married someone else and the son they share, of course, doesn't know him. His mother also died while he was unconscious. While trying to come to grips with these events, he also discovers that he has somehow acquired the ability to see into other people's lives by simply touching them! Sometimes he sees something from their past and sometimes an event that will happen to them in the future!
Dead Zone Cast
Anthony Michael Hall .... Johnny Smith
Nicole de Boer .... Sarah Bracknell Bannerman
John L. Adams .... Bruce Lewis
Chris Bruno .... Sheriff Walt Bannerman
David Ogden Stiers .... Reverend Gene Purdy
Kristen Dalton .... Dana Bright (2002-2003, 2006)
Dead Zone Trivia
There was a Dead Zone pilot that was used to sell the series but UPN turned it down and the pilot never aired. Luckily, for fans, the USA network decided to pick it up.
The Dead Zone TV show was loosely based on a 1979 novel written by author, "Stephen King" and on a 1983 film of the same title starring Christopher Walken.
Michael Moriarty ("Law and Order") played the role of Reverend Purdy in the unaired pilot and Kendall Cross played the role of Dana Bright.
There was a drum and wall painting in episode #12, "Shaman" that looked exactly like the casino logo used later in episode #23, "Dead Men Tell No Tales".
Anthony Michael Hall is the only cast member to have appeared in every single episode of Dead Zone. Anthony was one of the nine original members of the "brat pack" in the 1980s, along with Demi Moore, Rob Lowe, Molly Ringwald, Emilio Estevez, Judd Nelson, Mare Winningham, Andrew McCarthy, James Spader, John Cusack and Ally Sheedy. He was the youngest cast member ever on the series, "Saturday Night Live".
Johnny Smith's cane also appeared in the 1994 TV miniseries, "The Stand". It also was used in the 1999 TV miniseries, "Storm of the Century". The head of the cane was changed, however.
You might remember Nicole de Boer as Ezri Dax on the series, "Star Trek: Deep Space Nine". Some, however, feel her biggest contribution to date was in a starring role in the sci-fi movie, "Cube". The movie was about a group of people who wake up and find themselves in an enclosed area with several other people and they have no idea how they got there. The movie deserved better promotion than it got.
Episodes List With Original Air Dates
Season 1

Wheel of Fortune (6/16/2002)
What It Seems (6/23/2002)
Quality of Life (6/30/2002)
Enigma (7/7/2002)
Unreasonable Doubt (7/14/2002)
The House (7/21/2002)
Enemy Mind (7/28/2002)
Netherworld (8/4/2002)
The Siege (8/11/2002)
Here There Be Monsters (8/18/2002)
Dinner with Dana (8/25/2002)
Shaman (9/8/2002)
Destiny (9/15/2002)
Season 2
Valley of the Shadow (1/5/2003)
Descent - Part 1 (1/12/2003)
Ascent - Part 2 (1/19/2003)
The Outsider (2/2/2003)
Precipitate (2/9/2003)
Scars (2/16/2003)
Misbegotten (2/23/2003)
Cabin Pressure (3/2/2003)
The Man Who Never Was (3/9/2003)
Dead Men Tell No Tales (3/16/2003)
Playing God (3/30/2003)
Zion (4/6/2003)
The Storm (7/6/2003)
Plague (7/13/2003)
Deja Voodoo (7/20/2003)
The Hunt (7/27/2003)
The Mountain (8/3/2003)
The Combination (8/10/2003)
Visions (8/17/2003)
Season 3
Finding Rachel - Part 1 (6/6/2004)
Finding Rachel - Part 2 (6/13/2004)
Collision (6/20/2004)
Cold Hard Truth (6/27/2004)
Total Awareness (7/4/2004)
No Questions Asked (7/18/2004)
Looking Glass (7/25/2004)
Speak Now (8/1/2004)
Cycle of Violence (8/8/2004)
Instinct (8/15/2004)
Shadows (8/22/2004)
Tipping Point - Part 1 (8/22/2004)
Season 4
Broken Circle (6/12/2005)
The Collector (6/19/2005)
Double Vision (6/26/2005)
Still Life (7/10/2005)
Heroes & Demons (7/17/2005)
The Last Goodbye (7/24/2005)
Grains of Sand (7/31/2005)
Vanguard (8/7/2005)
Babble On (8/14/2005)
Coming Home (8/21/2005)
Saved (8/28/2005)
A Very Dead Zone Christmas (12/4/2005)
Season 5
Forbidden Fruit (6/18/2006)
Independence Day (6/25/2006)
Panic (7/2/2006)
Articles of Faith (7/9/2006)
The Inside Man (7/16/2006)
Lotto Fever (7/23/2006)
Symmetry (7/30/2006)
Vortex (8/6/2006)
Revelations (8/13/2006)
Into the Heart of Darkness (8/20/2006)
The Hunting Party (8/27/2006)
Season 6
Heritage (6/17/2007)
Ego (6/24/2007)
Re-Entry (7/1/2007)
Big Top (7/8/2007)
Interred (7/15/2007)
Switch (7/22/2007)
Numb (7/29/2007)
Outcome (8/5/2007)
Transgression (8/12/2007)
Drift (8/19/2007)
Exile (8/26/2007)
Ambush (9/9/2007)
Denouncement (9/16/2007)
Find Thousands of
Your Favorite
Shows

By Starting Letter
A B C D E F G
H I J K L M N
O P Q R S T U
V W X Y Z
Thank you for visiting our Dead Zone TV show page!
Copyright © 1997-Present CrazyAboutTV.com
All rights reserved