Search CrazyAboutTV for your
favorite show or your
favorite star!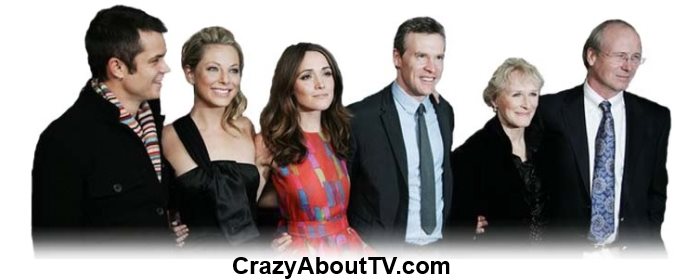 Series Description
Damages is a 60 minute mystery crime/drama series on FX for its first 3 seasons and then on DirecTV. It is about the legal cases of a cold-blooded lady lawyer and her young, aggressive female apprentice who manage to work together while balancing their relationship that often involves suspicion of each others motives.
Damages Cast
Glenn Close .... Patty Hewes (2007-)
Rose Byrne .... Ellen Parsons (2007-)
Tate Donovan .... Tom Shayes (2007-2010)
Zachary Booth .... Michael Hewes (2007-2011)
Ted Danson .... Arthur Frobisher (2007-2010)
Anastasia Griffith .... Katie Connor (2007-2009)
Michael Nouri .... Phil Grey (2007-2011)
Noah Bean .... David Connor (2007-)
Tom Noonan .... Detective Victor Huntley (2009-2011)
Zeljko Ivanek .... Ray Fiske (2007-2010)
Glenn Kessler .... Agent L.J. Werner (2007-2009)
Timothy Olyphant .... Wes Krulik (2009-2010)
David Costabile .... Bearded Man (2007-2009)
Martin Short .... Leonard Winstone (2010)
Campbell Scott .... Joe Tobin (2010)
Marcia Gay Harden .... Claire Maddox (2009)
William Hurt .... Daniel Purcell (2009)
Tom Aldredge .... Uncle Pete (2007-2010)
Philip Bosco .... Hollis Nye (2007-2009)
Ben Shenkman .... Curtis Gates (2010)
Mario Van Peebles .... Agent Randall Harrison (2007-2009)
Takako Haywood .... Lawyer at Hewes and Associates (2007-2011)
Dylan Baker .... Jerry Boorman (2011)
John Goodman .... Howard T. Erickson (2011)
Michael Pemberton .... Intimidating Man (2007-2010)
Lily Tomlin .... Marilyn Tobin (2010)
John Doman .... Walter Kendrick (2009)
Damages Trivia
Glenn Close must have either really loved the storyline of Damages and/or the $200,000 she's paid for each episode because she signed on for three seasons of the show before shooting even began for the first one!
Every season of Damages is based on something real in the news. The first season was inspired by the Enron scandal in 2001 where senior company officials faked their books causing stockholders to lose almost $11 billion! The second season was inspired by the Energy Crisis in California in 2001 caused by illegal shutdowns of oil pipelines manipulation of energy markets. The third season was inspired by the ponzi scheme run by Bernie Madoff. That scheme is generally accepted as being the biggest financial fraud in U.S. history having defrauded thousands of investors out of billions of dollars. The fourth Season was inspired by "Blackwater", the private military company that killed seventeen Iraqis in a shootout in Nisour Square while escorting a convoy of U.S. State Department vehicles. Blackwater officials stated that their employees were fired upon first. The Iraqi government intended to bring charges against the employees but the U.S. State Department gave them immunity from prosecution but the Department of Justice later rescinded that immunity. The controversy continues to this day over whether private military contractors should be liable to prosecution for their actions by the government of the nation in which they operate. The final season was inspired by WikiLeaks, an organization run by Julian Assange. Believing strongly in the public's right to know, it published private, secret, and classified information from anonymous news sources, news leaks, and whistleblowers.
According to a map seen at the end of an episode, the Hewes and Associates offices are located near the intersection of Bowery and East Houston Streets.
Damages and "Mad Men" became the first basic cable series to be nominated for Emmys as "Best Drama Series" in 2008!
The apartment where Patty Hewe's resides is located at West 17th Street and 7th Avenue in New York City.
Episodes List With Original Air Dates
Season 1

Get Me A Lawyer (7/24/2007)
Jesus, Mary and Joe Cocker (7/31/2007)
And My Paralyzing Fear of Death (8/7/2007)
Tastes Like a Ho Ho (8/14/2007)
A Regular Earl Anthony (8/21/2007)
She Spat at Me (9/4/2007)
We Are Not Animals (9/11/2007)
Blame the Victim (9/18/2007)
Do You Regret What We Did? (9/25/2007)
Sort of Like a Family (10/2/2007)
I Hate These People (10/9/2007)
There's No 'We' Anymore (10/16/2007)
Because I Know Patty (10/23/2007)
Season 2
I Lied, Too. (70 Minutes) (1/7/2009)
Burn It, Shred It, I Don't Care (1/14/2009)
I Knew Your Pig (1/21/2009)
Hey! Mr. Pibb! (1/28/2009)
I Agree, It Wasn't Funny (2/4/2009)
A Pretty Girl in a Leotard (2/11/2009)
New York Sucks (2/18/2009)
They Had to Tweeze That Out of My Kidney (2/25/2009)
You Got Your Prom Date Pregnant (3/4/2009)
Uh Oh, Out Come the Skeletons (3/11/2009)
London, Of Course (3/18/2009)
Look What He Dug Up This Time (3/25/2009)
Trust Me (4/1/2009)
Season 3
Your Secrets Are Safe (1/25/2010)
The Dog is Happier Without Her (2/1/2010)
Flight's at 11:08 (2/8/2010)
Don't Throw That at the Chicken (2/15/2010)
It's Not My Birthday (2/22/2010)
Don't Forget To Thank Mr. Zedeck (3/1/2010)
You Haven't Replaced Me (3/8/2010)
I Look Like Frankenstein (3/15/2010)
Drive It Through Hardcore (3/22/2010)
Tell Me I'm Not Racist (3/29/2010)
All That Crap About Your Family (4/5/2010)
You Were His Little Monkey (4/12/2010)
The Next One's Gonna Go In Your Throat (90 Minutes) (4/19/2010)
Season 4
There's Only One Way to Try a Case (7/13/2011)
I've Done Way Too Much for This Girl (7/20/2011)
I'd Prefer My Old Office (7/27/2011)
Next One's on Me, Blondie (8/3/2011)
We'll Just Have to Find Another Way to Cut the Balls Off of This Thing (8/10/2011)
Add That Little Hopper to Your Stew (8/17/2011)
I'm Worried About My Dog (8/24/2011)
The War Will Go On Forever (8/31/2011)
There's A Whole Slew Of Ladies With Bad Things To Say About The Taliban (9/7/2011)
Failure is Lonely (9/14/2011)
Season 5
You Want to End This Once and For All? (7/11/2012)
Have You Met the Eel Yet? (7/18/2012)
Failure is Failure (7/25/2012)
I Love You, Mommy (8/1/2012)
There's Something Wrong With Me (8/8/2012)
I Need to win (8/15/2012)
The Storm's Moving In (8/22/2012)
I'm Afraid of What I'll Find (8/29/2012)
I Like Your Chair (9/5/2012)
But You Don't Do That Anymore (9/12/2012)
Find Thousands of
Your Favorite
Shows

By Starting Letter
A B C D E F G
H I J K L M N
O P Q R S T U
V W X Y Z
Thank you for visiting our Damages page!
Copyright © 1997-Present CrazyAboutTV.com
All rights reserved