CSI: Crime Scene Investigation
Search CrazyAboutTV for your
favorite show or your
favorite star!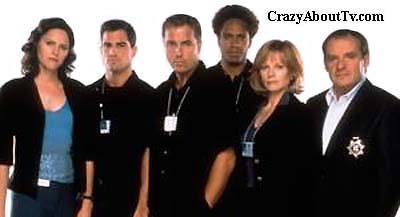 You might also want to check out these other CSI series!
CSI: Miami, CSI: NY and CSI: Vegas.
Series Description
CSI: Crime Scene Investigation is a 60 minute drama series on CBS about a team of forensic evidence experts who solve crimes in Las Vegas, Nevada. Using the latest equipment and their brilliant minds, they assemble small bits of evidence and develop the true story of how a death took place!
CSI Cast
Ted Danson .... D.B. Russell (2011-)
Elisabeth Shue .... Julie Finlay (2012-)
George Eads .... Nick Stokes (2000-)
Jorja Fox .... Sara Sidle (2000-)
Eric Szmanda .... Greg Sanders (2000-)
Robert David Hall .... Dr. Al Robbins (2000-)
David Berman .... David Phillips (2000-)
Wallace Langham .... David Hodges (2003-)
Elisabeth Harnois .... Morgan Brody (2011-)
Jon Wellner .... Henry Andrews (2005-)
Marc Vann .... Conrad Ecklie (2000-)
William Petersen .... Gil Grissom (2000-2013)
Paul Guilfoyle .... Captain Jim Brass (2000-2014)
Marg Helgenberger .... Catherine Willows (2000-2013)
Archie Kao .... Archie Johnson (2001-2012)
Laurence Fishburne .... Dr. Raymond Langston (2008-2011)
Louise Lombard .... Sofia Curtis (2004-2011)
Gary Dourdan .... Warrick Brown (2000-2013)
Liz Vassey .... Wendy Simms (2005-2010)
CSI Trivia
Check out the top of Gil Grissom's desk the next time you see it! There's a photo under the glass of the series' producer, "Jerry Bruckheimer".
There was a good reason for locating this show in Las Vegas. The crime lab located in that city processes more cases than any other city in the U.S. Only the F.B.I.'s lab in Quantico, Virginia is busier!
The head of CBS, Leslie Moonves, fired CSI Cast Jorja Fox and George Eads in July of 2004 for breach of their contracts. He claimed that they were trying to force an increase in their salaries for the 5th season. Jorja responded that she wasn't aware of a letter of intent that CBS claimed she hadn't signed and George said he simply overslept on the first day of filming. In any case, they were both re-hired at no increase in salary.
William Peterson personally named his character "Grissom" after astronaut Gus Grissom. Gus was the second American to fly in space. He also commanded the first Gemini flight and was scheduled to fly on the first Apollo flight. Sadly, Gus was killed on the ground in a test of the Apollo spacecraft. Peterson's character was originally going to be called Gil Scheinbaum.
You probably know that David Berman is cast as assistant coroner David Phillips on C.S.I., but did you realize that he also is the head researcher for the series?
CSI was originally offered to ABC. They rejected the series as being, "too confusing for the average viewer"! CBS thanks you ABC!!!
Every piece of equipment in the CSI lab is real ... no props.
Find Thousands of
Your Favorite
Shows

By Starting Letter
A B C D E F G
H I J K L M N
O P Q R S T U
V W X Y Z
Thank you for visiting our CSI: Crime Scene Investigation page!
Copyright © 1997-Present CrazyAboutTV.com
All rights reserved