Search CrazyAboutTV for your
favorite show or your
favorite star!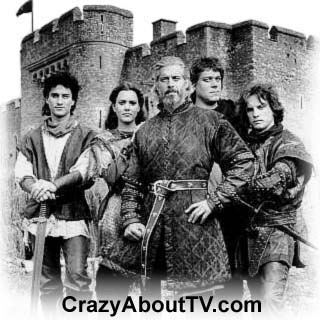 Series Description
The Covington Cross TV show was a 60 minute drama series on ABC about a medieval village on the English countryside where the inhabitants somehow had political views more like people in the 21st century. The head man in the area was a Lord who didn't tax his underlings to death. He was sensitive to their concerns and needs. Women had rights that were equal to those of men and everyone was careful to say nothing that might be considered to be politically incorrect!
Covington Cross Cast
Nigel Terry .... Sir Thomas Grey
Cherie Lunghi .... Lady Elizabeth
Jonathan Firth .... Richard Grey
Glenn Quinn .... Cedric Grey
Ione Skye .... Eleanor Grey
Tim Killick .... Armus Grey (Except Pilot)
James Faulkner .... Sir John Mullens
Paul Brooke .... Friar
Covington Cross Trivia
There were six episodes of the Covington Cross TV show that were produced but was not broadcast. Their titles were: "Eviction", "The Trial", "The Plague", "Revenge", "Celebration", and "Brothers".
In keeping with its silly politically correct in medieval times storyline, the scripts often contained historically incorrect moments. In the very first episode, Sir Thomas Gray's son William left home to take part in the Crusades even though the Crusades had ended more than a century earlier!
Covington Cross didn't really have much competition in its 8:00PM time on Saturday evenings. CBS was airing "Frannie's Turn" and "Brooklyn Bridge". NBC was broadcasting "Here and Now" and "Out All Night". FOX probably drew most potential viewers from Covington Cross by offering an hour of "Cops" in that slot.
The Covington Cross TV show was filmed on location in England at Penshurst Place, Kent and at Allington Castle.
Episodes List With Original Air Dates
Covington Cross - The First and Only Season
Pilot Episode (8/25/1992)
Armus Returns (9/19/1992)
Outlaws (9/26/1992)
Cedric Hits the Road (10/3/1992)
The Hero (10/10/1992)
Blinded Passions (10/24/1992)
The Persecution (10/31/1992)
Find Thousands of
Your Favorite
Shows

By Starting Letter
A B C D E F G
H I J K L M N
O P Q R S T U
V W X Y Z
Thank you for visiting our Covington Cross TV show page!
Copyright © 1997-Present CrazyAboutTV.com
All rights reserved