Search CrazyAboutTV for your
favorite show or your
favorite star!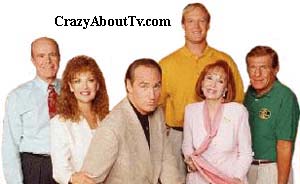 Series Description
The Coach TV show was a 30 minute sports situation comedy series that aired on ABC for 200 episodes from1989-1997. It was about a college football coach who was such a football fanatic that his wife and friends sometimes felt that he didsn't care about them. By the end of each episode, however, he convinced them that while he may not always show it, he also sincerely cared about them. The TV show was popular because everyone could identify with one of the Coach characters. After all, most people are either a sports fan or have to deal with one!
Coach Cast
Craig T. Nelson .... Coach Hayden Fox
Shelley Fabares .... Christine Armstrong Fox
Jerry Van Dyke .... Assistant Coach Luther Horatio Van Dam
Bill Fagerbakke .... Michael "Dauber" Dybinski
Kris Kamm .... Stuart Rosebrock
Clare Carey .... Kelly Fox (1989-1995)
Kenneth Kimmins .... Howard Burleigh (1989-1995)
Coach Trivia
Barry Kemp is the creator of the Coach TV show and he also created the series, "Newhart". In the three episode finale of Coach; Hayden Fox found Larry, his brother Darryl, and his other brother Darryl living in his cabin. They were popular recurring characters from "Newhart". In one episode of Coach, Christine read a book by Dick Louden titled, "How to Fly-fish". Dick Louden was Bob Newhart's character on "Newhart". In another episode, Christine and Hayden seek marriage counseling at an Inn in Vermont. The exterior shot of the Inn is of the real-life Waybury Inn which was also used for exterior shots of the Stratford Inn on "Newhart".
Shelley Fabares narrated the opening of each episode except the pilot by saying, "Coach is filmed before a studio audience". In the "Pilot" episode, Clare Carey said it.
There was a nationwide contest to decide which college band would play the theme song for Coach. The Iowa State University Cyclone Football "Varsity" Marching Band won.
When you saw footage of what was supposed to be a Minnesota State football game on Coach, you were actually seeing footage of a University of Minnesota game.
Using footage from the University of Minnesota's games resulted in a goof. While playing in the Pineapple Bowl, the Screaming Eagles adversaries were the Wranglers from Southern Texas. In the Pioneer Bowl, they played a team from West Texas. Both teams they played wore helmets with red W's on White helmets because the footage used for both games was actually a University of Minnesota versus the University of Wisconsin game.
The exterior shots of Hayden's office, the campus, and the stadium in Minnesota were actually filmed at the University of Iowa. The main Coach character, "Hayden Fox" was a tribute to the famed Iowa coach, "Hayden Fry".
Non sports fans and younger viewers might know Craig T. Nelson better as "Chief Jack Mannion" on the TV series, "The District". We older Shelley Fabares fans will never forget her role as the teenage daughter "Mary Stone" on the series, "The Donna Reed Show".
In the episodes where Hayden Fox is the coach of the Orlando Breakers, the stadium shown out his office window is really the Milwaukee County Stadium.
Find Thousands of
Your Favorite
Shows

By Starting Letter
A B C D E F G
H I J K L M N
O P Q R S T U
V W X Y Z
Thank you for visiting our Coach TV show page!
Copyright © 1997-Present CrazyAboutTV.com
All rights reserved