Search CrazyAboutTV for your
favorite show or your
favorite star!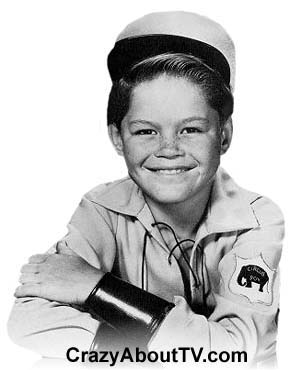 Series Description
The Circus Boy TV show was a 30 minute drama series that aired on NBC for its first season and on ABC for the second season for a total of 49 episodes from 1956-1957. It was about a 12-year-old boy named Corky whose parents were killed in a trapeze accident during a performance. The other members of the circus "adopted" him and he contributed by becoming water boy to the circus' elephant, "Bimbo". Corky also regularly helped the struggling circus survive, usually with the help of Bimbo.
Circus Boy Cast
Micky Dolenz .... Corky
Guinn "Big Boy" Williams .... Pete (Roustabout)
Noah Beery Jr. .... Uncle Joey (The Clown)
Robert Lowery .... Big Tim Champion (Circus Owner)
Billy Barty .... Little Tom
Leo Gordon .... Hank Miller
Eddie Marr .... Barker
Olin Howlin .... Swifty
Bimbo the Elephant .... Bimbo
Circus Boy Trivia
Before their deaths, Corky's parents had been the main circus act on the high-wire. The name of their act had been "The Flying Falcons".
Circus Boy's story took place in the late 1800s.
Another series titled, "Rin Tin Tin" was produced by Columbia Studios who also produced Circus Boy. The shows were similar in that they both concentrated on a young boy and his pet who, against all odds, saved others from harm and generally helped people in significant ways. On Rin Tin Tin, however, the pet was a dog rather than a baby elephant. Comparisons have also been made to "Lassie" for both aforementioned series.
Mickey Dolenz actually used the stage name "Micky Braddock" at the time he starred on Circus Boy. Years later on "The Monkees", he went back to his real last name.
At one point, the producers of Circus Boy sent Micky on tour to promote the show. Bimbo the elephant went along on the tour and performed tricks for the audiences. Micky also played the guitar and sang. In preparation, Micky was given guitar lessons.
Guinn "Big Boy" Williams who played Pete on Circus Boy was the son of man who was a U.S. Congressman from 1922 to 1932. Guinn was an outstanding polo player who owned 125 polo ponies. He was often referred to as the "Babe Ruth" of polo!
Robert Lowery has the distinction of being the second actor to play the role of "Batman". He did it in the 1949 movie, "Batman and Robin".
Nearly seventeen years after Circus Boy was canceled, Noah Beery Jr. went on to the role of his career as Rocky Rockford (Jim Rockford's dad) on "The Rockford Files".
Find Thousands of
Your Favorite
Shows

By Starting Letter
A B C D E F G
H I J K L M N
O P Q R S T U
V W X Y Z
Thank you for visiting our Circus Boy TV show page!
Copyright © 1997-Present CrazyAboutTV.com
All rights reserved