Search CrazyAboutTV for your
favorite show or your
favorite star!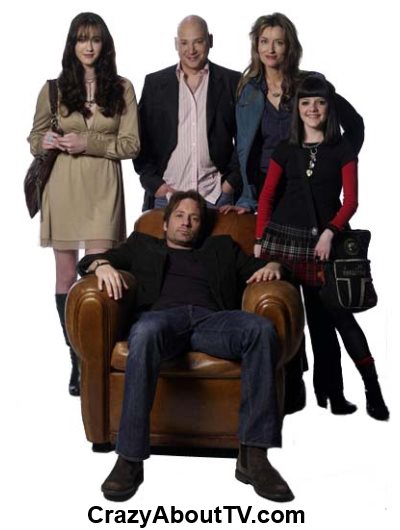 Series Description
Californication is a 30 minute drama series with a comedy twist on Showtime about a successful author with an obsessive sexual appetite that often complicates his career and his relationships with his ex-girlfriend, their daughter and his friends.
Californication Cast
David Duchovny .... Hank Moody (2007-2013)
Natascha McElhone .... Karen (2007-2013)
Evan Handler .... Charlie Runkle (2007-2013)
Madeleine Martin .... Becca Moody (2007-2013)
Pamela Adlon .... Marcy Runkle (2007-2013)
Madeline Zima .... Mia Lewis (2007-2011)
Stephen Tobolowsky .... Stu Baggs (2011-)
Callum Keith Rennie .... Lew Ashby (2008-)
Rachel Miner .... Dani (2007-2008)
Jason Beghe .... Richard Bates (2009-)
Carla Gallo .... Daisy (2008-2009)
Kathleen Turner .... Sue Collini (2009)
Carla Gugino .... Abby Rhodes (2011)
Scott Michael Foster .... Tyler (2012)
Camilla Luddington .... Lizzie (2012)
RZA .... Samurai Apocalypse (2012)
Embeth Davidtz .... Felicia Koons (2009)
Paula Marshall .... Sonja (2007-2008)
Eva Amurri Martino .... Jackie (2009)
Damian Young .... Bill Lewis (2007-2011)
Diane Farr .... Jill Robinson (2009)
Ellen Woglom .... Chelsea Koons (2009)
Zoe Isabella Kravitz .... Pearl (2011)
Meagan Good .... Kali (2012)
Peter Gallagher .... Dean Stacy Koons (2009)
Addison Timlin .... Sasha Bingham (2011)
Ana Rey .... Irma (2011-)
Angus Macfadyen .... Julian (2008)
Californication Trivia
Hank Moody's fictional books were titled "God Hates Us All", "Seasons in the Abyss" and "South of Heaven". Those are actually the names of albums by the band, "Slayer". The series name, "Californication" is obviously a combination of the words "California" and "Fornication". The idea for the name came from bumper stickers on cars in Oregon owned by people who didn't want California's lifestyle to infect their State at the end of the 1970s to the beginning of the 1980s. The stickers said, "Don't Californicate Oregon".
The Red Hot Chili Peppers best selling album as of 2012 is titled, "Californication"! Sales of that album exceeded 15 million copies!
Writers often face the same dilemna that many of the rest of us do. Do you work at something you love or at something that pays the rent. Californication creator "Tom Kapinos" has stated that he was inspired to do Californication after writing for four years on the series, "Dawson's Creek". He apparently just didn't feel in touch with that show. Obviously, Californication's storyline is about as far from that of Dawson's Creek as you can get.
Kapinos based the Hank Moody character on poet, novelist and short story writer "Charles Bukowski" (1920-1994). Time Magazine called Bukowski a "laureate of American lowlife" in a 1986 article.
David Duchovny has said that he was absolutely exhausted after starring on "The X-Files" for 202 episodes over nine long seasons and really had no desire to star on another TV series. When he read a script for Californication though, he changed his mind because he found the relationship between the womanizing Hank Moody and his daughter to be very interesting.
Find Thousands of
Your Favorite
Shows

By Starting Letter
A B C D E F G
H I J K L M N
O P Q R S T U
V W X Y Z
Thank you for visiting our Californication page!
Copyright © 1997-Present CrazyAboutTV.com
All rights reserved