Search CrazyAboutTV for your
favorite show or your
favorite star!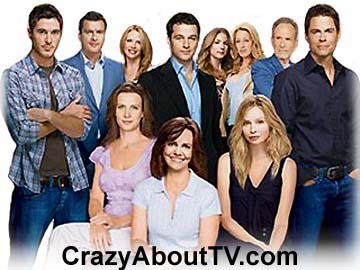 Series Description
Brothers and Sisters was a 60 minute family drama series on ABC about the adult children of William Walker who, along with their respective families, had gathered to celebrate Kitty's birthday. Little did they know that, on this day, their lives would take a dramatic turn. The siblings were about to find out that underneath the idyllic family facade lie many secrets that threatened to either tear the family apart or bring them closer together. As told through the insightful eyes of the family's most outspoken and public sibling this warm, humorous and relatable drama showed the ups and downs of a family dealing with change.
Brothers and Sisters Cast
Calista Flockhart .... Kitty Walker
Sally Field .... Nora Holden
Rachel Griffiths .... Sarah Walker
Ron Rifkin .... "Uncle" Saul Ashman
Balthazar Getty .... Thomas Walker
Dave Annable .... Justin Walker
Matthew Rhys .... Kevin Walker
John Pyper-Ferguson .... Joe Traylor
Patricia Wettig .... Holly Harper
Jimmy "Jax" Pinchak .... Teddy Traylor
Sarah Morris .... Julia Walker
Gage Golightly .... Maddie
Find Thousands of
Your Favorite
Shows

By Starting Letter
A B C D E F G
H I J K L M N
O P Q R S T U
V W X Y Z
Thank you for visiting our Brothers and Sisters TV show page!
Copyright © 1997-Present CrazyAboutTV.com
All rights reserved