Search CrazyAboutTV for your
favorite show or your
favorite star!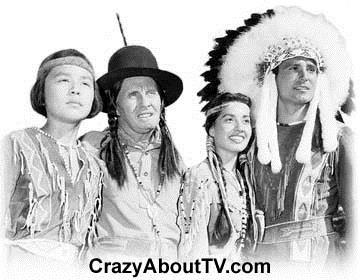 Series Description
The Brave Eagle TV show was a 30 minute western drama series on CBS like no other western series before! It showed the expansion of the white man into the western U.S. territories from the American Indians' point of view.
Brave Eagle Cast
Keith Larsen .... Brave Eagle
Keena Nomkeena .... Keena
Kim Winona .... Morning Star
Bert Wheeler .... Smokey Joe
Brave Eagle Trivia
Brave Eagle was a young Chief of a peace-loving tribe of Cheyenne. The series took place in the southwestern U.S. in the mid 1800s.
The Brave Eagle TV show didn't just highlight the conflict between the white man and the American Indian, it also featured the Indians' struggle against nature for survival and their conflicts with other Indian tribes. With the show being presented from the Indians' point of view, audiences also got a rare look into their day-to-day lives including romance.
While Brave Eagle didn't have much competition in its time slot from NBC, ABC was airing its immensely popular series, "Disneyland".
Find Thousands of
Your Favorite
Shows

By Starting Letter
A B C D E F G
H I J K L M N
O P Q R S T U
V W X Y Z
Thank you for visiting our Brave Eagle TV show page!
Copyright © 1997-Present CrazyAboutTV.com
All rights reserved