Search CrazyAboutTV for your
favorite show or your
favorite star!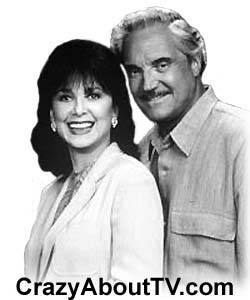 Series Description
The Boys Are Back TV show was a 30 minute comedy series on CBS about Fred and Jackie Hansen who shipped their last son out of the house and off to college. Fred was thrilled to finally get the privacy he needed to enjoy his retirement. Jackie was a bit disturbed over her last "baby" leaving the nest but was ready for a long needed rest! Before they had any chance to relax, their son Mike lost his job and showed up at their door with his wife and three young children! Then, as if things couldn't get any worse, their son Rick also needed a room in their home after his wife threw him out of the house!
The Boys Are Back Cast
Hal Linden .... Fred Hansen
Suzanne Pleshette .... Jackie Hansen
Kevin Crowley .... Rick Hansen
George Newborn .... Mike Hansen
Bess Meyer .... Judy Hansen
Ryan O'Donohue .... Peter Hansen
Kelsey Mulrooney .... Sarah Hansen
Justin Cooper .... Nicky Hansen
The Boys Are Back Trivia
It's almost impossible to believe that The Boys Are Back TV show didn't become a hit! With a cast headed by Hal Linden and Suzanne Pleshette, how could it fail to succeed? Well ... for one thing, CBS moved the time slot three times in its short time on the air! Fans couldn't keep track of it. One other thing that hurt was that for most of the episodes FOX was airing the hit series, "Beverly Hills 90210" in the same time slot!
Find Thousands of
Your Favorite
Shows

By Starting Letter
A B C D E F G
H I J K L M N
O P Q R S T U
V W X Y Z
Thank you for visiting our The Boys Are Back TV show page!
Copyright © 1997-Present CrazyAboutTV.com
All rights reserved