Search CrazyAboutTV for your
favorite show or your
favorite star!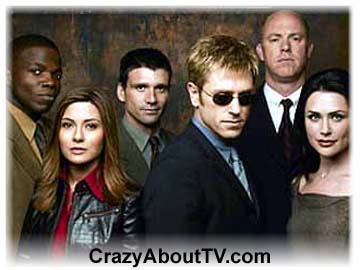 Series Description
The Blind Justice TV show was a 60 minute crime drama series on ABC about an NYPD detective named Jim Dunbar who had been blinded by a bullet taken while heroically saving fellow police officers during a robbery. No one believed that a blind man could perform as a police officer except Jim who was determined to salvage his life. Even his partner and wife had no faith in Jim's abilities but Jim never gave up!
Blind Justice Cast
Ron Eldard .... Detective Jim Dunbar
Marisol Nichols .... Detective Karen Bettancourt
Rena Sofer .... Christie Dunbar
Frank Grillo .... Detective Marty Russo
Reno Wilson .... Lieutenant Tom Selway
Michael Gaston .... Lieutenant Gary Fisk
Saul Rubinek .... Allan Galloway
Blind Justice Trivia
Blind Justice was spoofed on the March 12, 2005 episode of "Saturday Night Live" in a skit about a fake TV ad for a "Deaf Judge" and an "Idiot Doctor". Steven Bocho was the creator, writer and producer of Blind Justice. He got the idea for the series from a mystery novel that he wrote in 2003 titled "Death by Hollywood. A character in that novel was also a writer who had written a short story about a detective who was rendered blind in the line of duty.
Bocho was very thoughtful about the fact that visually challenged people might be fans of Blind Justice. As a service to those "viewers", the series was the first scripted show from ABC to contain a second audio channel for those viewers that described what was happening on each episode.
Find Thousands of
Your Favorite
Shows

By Starting Letter
A B C D E F G
H I J K L M N
O P Q R S T U
V W X Y Z
Thank you for visiting our Blind Justice TV show page!
Copyright © 1997-Present CrazyAboutTV.com
All rights reserved