Search CrazyAboutTV for your
favorite show or your
favorite star!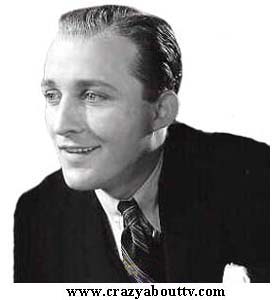 Series Description
The Bing Crosby Show was a comedy series on ABC about a middle-aged married couple with two teenage daughters and a handyman/friend who lived with them in their home.
Bing Crosby Show Cast
Bing Crosby .... Bing Collins
Beverly Garland .... Ellie Collins
Frank McHugh .... Willie Walters
Diane Sherry .... Joyce Collins
Carol Faylen .... Janice Collins
Bing Crosby Show Trivia
Before the TV show, there was a Bing Crosby radio show. It appeared (as did many radio programs) under the name of the sponsors. First there was the "Kraft Music Hall" and then the show became the "Philco Radio Hour". They were really all about Bing though! They ran for over a decade!
Bing Crosby played a singing architectural designer on the show. Really!
Crosby was such a popular guy among actors that he had no problem attracting big name guest stars to appear on the show. Some of them included Frankie Avalon, Macdonald Carey, Vicki Carr, Dennis Day, Joan Fontaine, George Gobel, Pat Harrington, Jr., Phil Harris, Lloyd Nolan, and Ruth Roman.
Find Thousands of
Your Favorite
Shows

By Starting Letter
A B C D E F G
H I J K L M N
O P Q R S T U
V W X Y Z
Thank you for visiting our The Bing Crosby Show page!
Copyright © 1997-Present CrazyAboutTV.com
All rights reserved