Search CrazyAboutTV for your
favorite show or your
favorite star!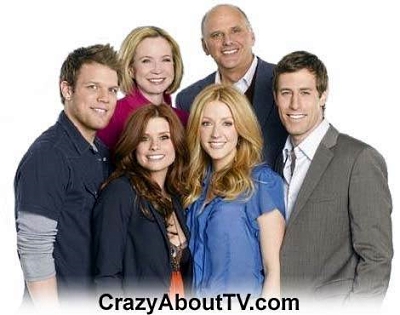 Series Description
The Better With You TV show was a 30 minute romantic comedy series on ABC about two sisters, their relationship with each other and with their parents and lovers. One sister was cautious about entering a love relationship and dated her boyfriend for nearly a decade before marriage. The other sister is pregnant and decides to marry the father who she's known for less than two months. And that's just the beginning of the difference in how the sisters see their respective paths in life.
Better With You Cast
Joanna Garcia .... Mia Putney
Jennifer Finnigan .... Maddie Putney
Debra Jo Rupp .... Vicky Putney
Kurt Fuller .... Joel Putney
Jake Lacy .... Casey
Josh Cooke .... Ben
Better With You Trivia
Better With You's creator is Shana Goldberg-Meehan who began her career as a writer on "Mad About You" and then wrote for and served as executive Producer on "Friends". It would appear that she has the right stuff to write and produce romantic comedies!
The series was first titled "Better Together", then changed to "Leapfrog" and then to "That Couple" before settling in on Better With You.
The cast of Better Than You is by no means inexperienced in show business. Joanna Garcia has starred on "Are You Afraid of the Dark?", "Reba", and "Privileged"; Jennifer Finnigan on "The Bold and the Beautiful", "Committed", and "Close to Home"; Debra Jo Rupp on "Davis Rules", "If Not for You", and "That '70s Show"; Kurt Fuller on "Wildside", "Capital News", "Laurie Hill", "Time Cop", "That's My Bush", and "The Big Day"; and Josh Cooke on "Committed", "Four Kings", and "The Big Day"!
Twenty years before she became a star on That 70s Show, Debra Jo Rupp was a contestant on "The $10,000 Pyramid". Unfortunately for Debra her competitor was teamed up with Tony Randall ("The Odd Couple") who was one of the best celebrity players to appear on the game show and she lost. Ironically, in 2003 she appeared on "The $100,000 Pyramid" twice, this time as the celebrity contestant!
Kurt Fuller looks quite a lot like actor Werner Klemperer who played Colonel Klink on the series, "Hogan's Heroes". That resemlance was a major consideration in his being cast as Klemperer in the 2002 movie, "Auto Focus".
Find Thousands of
Your Favorite
Shows

By Starting Letter
A B C D E F G
H I J K L M N
O P Q R S T U
V W X Y Z
Thank you for visiting our Better With You TV show page!
Copyright © 1997-Present CrazyAboutTV.com
All rights reserved