Search CrazyAboutTV for your
favorite show or your
favorite star!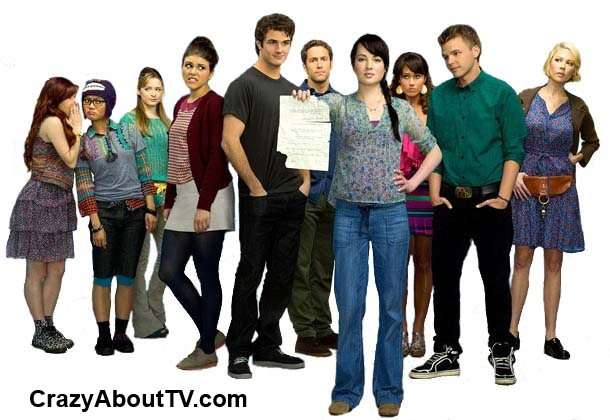 Series Description
The Awkward TV show is a 30 minute teen comedy series on MTV about a teenage girl who like many teenagers wishes that her peers would pay more attention to her. Unfortunately, Jenna Hamilton gets her wish in a bad way after she has an accident that appears to be a suicide attempt. But Jenna's determined to turn things around. After all, at least now everyone knows who she is!
Awkward Cast
Ashley Rickards .... Jenna Hamilton (2011-)
Beau Mirchoff .... Matty McKibben (2011-)
Nikki Deloach .... Lacey Hamilton (2011-)
Desi Lydic .... Valerie Marks (2011-)
Brett Davern .... Jake Rosati (2011-)
Molly Tarlov .... Sadie Saxton (2011-)
Jillian Rose Reed .... Tamara (2011-)
Jessica Lu .... Ming Huang (2011-)
Greer Grammer .... Lissa (2011-)
Mike Faiola .... Kevin Hamilton (2011-)
Matthew Fahey .... Ricky Schwartz (2011-)
Janelle Velasquez .... Karli (2011)
Wesam Keesh .... Kyle (2011-)
Joey Haro .... Clark Stevenson (2011-)
Barret Swatek .... Ally (2011-)
Neil W. Garguilo .... Principal Cox (2011-)
Sunkrish Bala .... Mr. Mishra (2011)
Shanica Knowles .... Michelle (2011)
Laura Ashley Samuels .... Courtney (2012-)
Drew Osborne .... Emo (2011-)
Zachary Abel .... James McKibben (2011)
Catfish Jean .... Jock (2011)
Keith Pillow .... Doctor (2011)
Awkward Trivia
Critics love Akward's look at the struggles that teens go through in order to "fit in". The Daily Beast, the Huffington Post, the Internet Movie Database, the New York Daily News and the New York Times all included Akward on their top ten TV show lists!
Find Thousands of
Your Favorite
Shows

By Starting Letter
A B C D E F G
H I J K L M N
O P Q R S T U
V W X Y Z
Thank you for visiting our Awkward TV Show page!
Copyright © 1997-Present CrazyAboutTV.com
All rights reserved