Search CrazyAboutTV for your
favorite show or your
favorite star!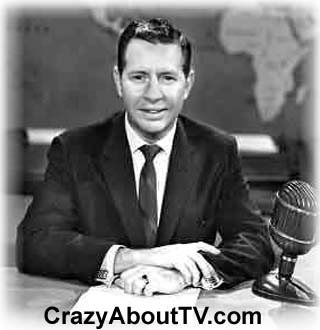 Photo above is of Douglas Edwards
Host of the Armstrong Circle Theatre
Series Description
The Armstrong Circle Theatre TV show was an anthology drama series on NBC for its first seven seasons (30 minutes) and on CBS for the final six seasons (60 minutes). It began as a series that covered serious human problems such as war, adultery, mental illness, obesity, and racial strife. In the seventh season the storylines changed to real-life, headline-making dramas.
Armstrong Circle Theatre Hosts:
Nelson Case (1950-1951)
Joe Ripley (1952-1953)
Bob Sherry (1953-1954)
Sandy Becker (1954-1955)
John Cameron Swayze (1955-1957)
Douglas Edwards (1957-1961)
Ron Cochran (1961-1962)
Henry Hamilton (1962-1963)
Armstrong Circle Theatre Trivia
Episode #140, "The Parrot" was the first operetta to appear on television.
Not only did the Armstrong Circle Theatre change its length and network in the eighth season, it also began airing every other week by sharing its time slot with "The U.S. Steel Hour".
During the latter end of the 1960s the Armstrong Circle Theatre returned with four TV specials which were adaptations of successful Broadway plays. Three of them starred Robert Goulet. They were titled, "Brigadoon", "Carousel" and "Kiss Me Kate". The fourth one was "Kismet" starring Jose Ferrer.
Many of the real-life dramas that became predominant in season seven were stories about the cruelty of the Soviet Union and the suffering of the people behind the "Iron Curtain".
Find Thousands of
Your Favorite
Shows

By Starting Letter
A B C D E F G
H I J K L M N
O P Q R S T U
V W X Y Z
Thank you for visiting our Armstrong Circle Theatre page!
Copyright © 1997-Present CrazyAboutTV.com
All rights reserved