Search CrazyAboutTV for your
favorite show or your
favorite star!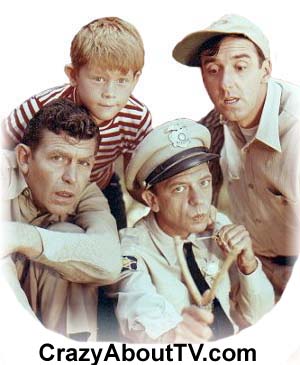 Series Description
The Andy Griffith Show was a 30 minute comedy series on CBS about a kind-hearted widower who was also a small-town sheriff. He raised his son with the help of his Aunt. He also had to deal with a zany cast of characters including a deputy who was so inept that the sheriff only allowed him one bullet and the deputy had to carry that in his pocket. The Andy Griffith Show was a good, wholesome, family-oriented series with lots of laughs.
The Andy Griffith Show Cast
Andy Griffith .... Sheriff Andy Taylor
Don Knotts .... Deputy Barney Fife
Ron Howard .... Opie Taylor
Frances Bavier .... Aunt Bee Taylor
Hope Summers .... Bertha Johnson/Clara Edwards
Howard McNear .... Floyd Lawson
Hal Smith .... Otis Campbell
Betty Lynn .... Thelma Lou
Aneta Corsaut .... Helen Crump
Jim Nabors .... Gomer Pyle
Howard Morris .... Ernest T. Bass
Jack Dodson .... Howard Sprague
Maggie Peterson .... Charlene Darling
Denver Pyle .... Briscoe Darling
Elinor Donahue .... Ellie Walker
Arlene Golonka .... Millie Hutchins
Parley Baer .... Mayor Stoner
The Andy Griffith Show Trivia
The Andy Griffith Show was a spin-off of the "Make Room For Daddy TV show" (aka: "The Danny Thomas Show"). Andy Griffith guest starred as Sheriff Andy Taylor on one episode! It was obviously a marketing tool by having the main character for a new series appear on a highly successful series. Danny Thomas' production company produced both series. That episode is considered the be the pilot for the Andy Griffith Show. Andy Taylor's wife and Opie's mom's fate was mentioned in the pilot. Andy said that his wife had died when Opie was "the least little speck of a baby". The only other time she was mentioned was on the episode, "Wedding Bells for Aunt Bee" when Andy explained to Opie how he loved Opie's mom just like Aunt Bee loved her fiance. Other than that, she was never mentioned again and their were absolutely no photos of her and no grave site is ever visited or mentioned. Her parents (Opie's grandparents) never appear and neither do any maternal aunts or uncles.
Andy Griffith got his first major part on TV on an episode of "The United States Steel Hour" titled, "No Time For Sergeants". Andy played a dim-witted but loveable soldier who caused never-ending problems for his Sergeant. It was a ratings hit and five years later in 1958 Andy agreed to reprise his role in a movie based on that episode! Six years after the movie hit theaters, the Andy Griffith Show generated a "spinoff TV series" with the same storyline titled, "Gomer Pyle U.S.M.C." which also ran for five seasons and 150 episodes!
The Andy Griffith Show also spawned a second spin-off titled, "Mayberry R.F.D.".
Don Knots played such goofy characters on the Andy Griffith Show and in the movies that many people believed he was like that in real life. In actuality, he was so good at playing those roles that he won five Emmy Awards for his role as Barney Fife!
Mayberry, North Carolina was based opon Mt. Airy, North Carolina: Andy Griffith was born in a small North Carolina town named "Mount Airy" and he used it as the basis for the ficticious town of Mayberry.
You may have thought that Barney Fife was just Andy Taylor's dim-witted deputy but he was also Andy's cousin.
A young Jack Nicholson guest starred on episode #226 titled, "Aunt Bee, the Juror".
Eighteen years after the final episode of the Andy Griffith Show and fifteen years after Mayberry R.F.D. ended, a reunion movie titled, "Return to Mayberry" aired on NBC. The old, cherished characters that appeared as they were eighteen years into the future included Andy Taylor, Barney Fife, Opie Taylor, Helen Crump, Gomer Pyle, Goober Pyle, Thelma Lou, Ernest T. Bass, Otis Campbell, and Charlene Darling. Unfortunately, Aunt Bee did not appear.
The Andy Griffith Show Theme Song
Title: "The Fishin' Hole"
By: "Everett Sloane, Earle Hagen and Herbert Spencer"
Well, now, take down your fishin' pole and meet me at The Fishin' Hole.
We may not get a bite all day, but don't you rush away.
What a great place to rest your bones and mighty fine for skippin' stones,
You'll feel fresh as a lemonade, a-settin' in the shade.
Whether it's hot,
whether it's cool,
oh what a spot,
for whistlin' like a fool.
What a fine day to take a stroll and wander by The Fishin' Hole.
I can't think of a better way to pass the time o' day.
We'll have no need to call the roll when we get to The Fishin' Hole.
There'll be you, me, and Old Dog Trey, to doodle time away.
If we don't hook a perch or bass, we'll cool our toes in dewy grass,
Or else pull up a weed to chaw, and maybe set and jaw.
Hangin' around,
takin' our ease,
watchin' that hound,
a-scratchin' at his fleas.
Come on, take down your fishin' pole and meet me at The Fishin' Hole.
I can't think of a better way to pass the time o' day.
Find Thousands of
Your Favorite
Shows

By Starting Letter
A B C D E F G
H I J K L M N
O P Q R S T U
V W X Y Z
Thank you for visiting our The Andy Griffith Show Cast, Theme Song, Episodes page!
Copyright © 1997-Present CrazyAboutTV.com
All rights reserved