Search CrazyAboutTV for your
favorite show or your
favorite star!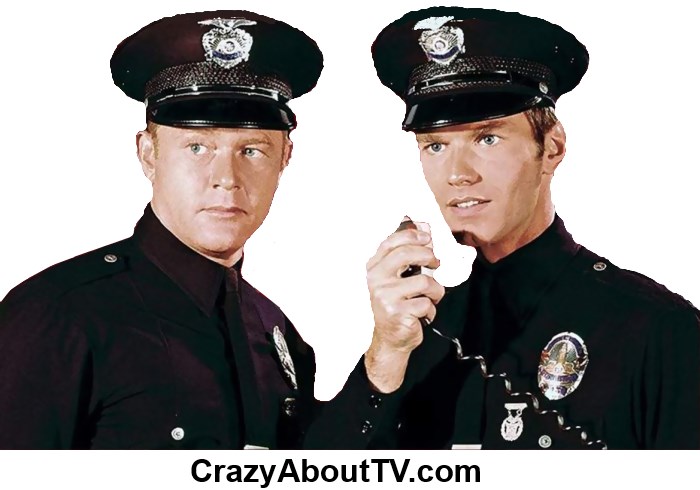 Series Description
Adam 12 was a 30 minute crime, drama series on NBC about a veteran street cop and his rookie partner working in their squad car for the Los Angeles Police Department. The show was different from most police dramas in that it showed what was probably much closer to the real-life activities of a cop. They might rescue an old lady's cat from a tree one minute, pull someone over for speeding the next, and then get a call for an armed robbery in progress. The relationship of the officers to the public was stressed, especially in the not so exciting segments (that old lady was real happy to get her cat back). Adam 12 also showed the parts of an officer's job that we usually don't see on television ... filing of reports, debriefings after an arrest, preparation to testify in court, rookie training, etc.
Adam 12 Cast
Martin Milner .... Officer Pete Malloy
Kent McCord .... Officer Jim Reed
Gary Crosby .... Officer Ed Wells
William Boyett .... Sergeant MacDonald
Claude Johnson .... Officer Brinkman (1968-1969, 1974-1975) / Officer Norm Green (1969-1971)
Fred Stromsoe .... Officer Jerry Woods (1972-1975)
William Elliott .... Officer Grant (1973-1975)
William Stevens .... Officer Jerry Walters (1968-1969)
Jack Hogan .... Sergeant Miller (1968-1969)
Mikki Jamison .... Mrs. Jean Reed (1969-1970)
Kristen Nelson .... Mrs. Jean Reed (1974-1975)
Shaaron Claridge .... Dispatcher (Voice)
Adam 12 Trivia
The fact that Adam 12 portrayed every facet of police work as realistically as possible even if sometimes boring will come as no surprise to fans of the series' producer, "Jack Webb" ("Dragnet"). Jack was a meticulous man who felt that a series about cops should be true to the truth. He was so successful that many police academies used episodes of Adam 12 as training films! Of course, they managed to find lots of true to life exciting things in the everyday lives of cops. Another Jack Webb production titled, "Emergency" was also a true to life depiction of two paramedics. On several occasions, the cops from Adam 12 would show up on "Emergency" or the paramedics would show up on Adam 12.
The police station that Jim and Pete worked out of was, in real life, the "Rampart Division" located just northwest of the downtown area in Los Angeles, California.
Martin Milner's daughter "Amy" did not follow her father into an acting career but she did appear on television once on Adam 12! You can see her in episode #164 titled, "Victim of the Crime". She played the daughter of a shopkeeper who was shot during a robbery.
Fans of Adam 12 may remember often hearing Jim or Pete on the radio saying, "One Adam 12". The "One" referred to the division that they were in, "Adam" stood for "two cops in a patrol car", and "12" stood for the area within division one where they were assigned to patrol.
Adam 12 was not Martin Milner's first starring role on a television series. For four seasons from 1960-1964, he played one of two main characters on the series, "Route 66".
Adam 12 was on the air for seven years and poor Pete and Jim only got promoted once each! In the third season, Jim was promoted from "Rookie" to "Officer". In the fourth season, Pete was promoted to "Policeman 3" which left him just one step below Sergeant.
Find Thousands of
Your Favorite
Shows

By Starting Letter
A B C D E F G
H I J K L M N
O P Q R S T U
V W X Y Z
Thank you for visiting our Adam 12 TV Show Cast and Episodes page!
Copyright © 1997-Present CrazyAboutTV.com
All rights reserved