Search CrazyAboutTV for your
favorite show or your
favorite star!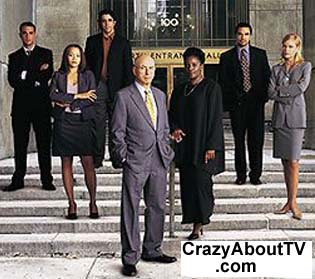 Series Description
The 100 Centre Street TV show was a 60 minute, crime/drama series on A&E about the work and personal lives of workers at a courthouse located in New York City at (you guessed it) 100 Centre Street.
100 Centre Street Cast
Alan Arkin .... Judge Joe Rifkind
LaTanya Richardson .... Judge Queenie Sims
Manny Perez .... Ramon Rodriguez
Joseph Lyle Taylor .... Bobby Esposito
Paula Devicq .... Cynthia Bennington
Find Thousands of
Your Favorite
Shows

By Starting Letter
A B C D E F G
H I J K L M N
O P Q R S T U
V W X Y Z
Thank you for visiting our 100 Centre Street TV Show page!
Copyright © 1997-Present CrazyAboutTV.com
All rights reserved