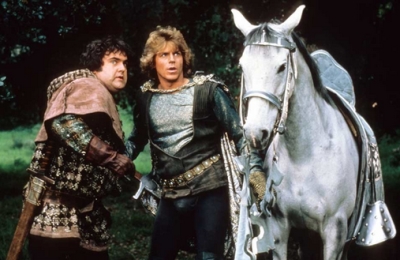 Series Description
Wizards And Warriors was a 60 minute fantasy series on CBS.
Wizards And Warriors Cast
Jeff Conaway .... Prince Erik Greystone
Duncan Regehr .... Prince Dirk Blackpool
Thomas Hill .... King Edwin Baaldorf
Julia Duffy .... Princess Ariel Baaldorf
Clive Revill .... Wizard Vector
Walter Olkewicz .... Marko
Ian Wolfe .... Wizard Tranquil
Jay Kerr .... Justin
Tim Dunigan .... Geoffrey
Phyllis Katz .... Cassandra
Randi Brooks .... Bethel
Christine De Lisle .... Belladonna
Episodes List With Original Air Dates
Wizards And Warriors - The First And Only Season
Unicorn Of Death (2/26/1983)
Kidnap (3/5/1983)
Rescue (3/12/1983)
Night Of Terror (3/19/1983)
Skies Of Death (4/9/1983)
Caverns Of Chaos (4/30/1983)
Dungeon Of Death (5/7/1983)
Revenge (5/14/1983)
Find Your Favorite Shows From Our List Of Thousands!
Thank you for visiting our Wizards And Warriors page!
Copyright © 1997-Present CrazyAboutTV.com
All rights reserved