The Walking Dead TV Series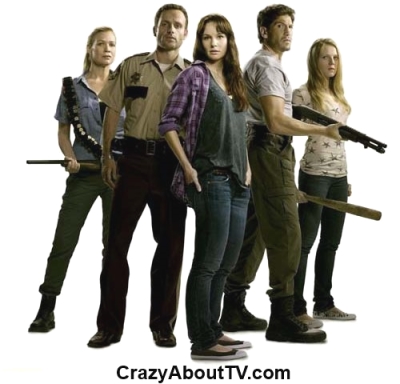 Series Description

The Walking Dead TV series is a 60 minute horror show on AMC about a former cop who awakened from a coma that had lasted several months and found that the world had been overrun by human-eating zombies. For a while he thought that he was the only human left alive but he eventually found others. He organized them into a group with the goal of fighting off the zombies and other groups of survivors who only care about their own survival.
The Walking Dead Cast
Andrew Lincoln .... Rick Grimes (2010-)
Steven Yeun .... Glenn Rhee (2010-)
Chandler Riggs .... Carl Grimes (2010-)
Norman Reedus .... Daryl Dixon (2010-)
Melissa McBride .... Carol Peletier (2010-)
Lauren Cohan .... Maggie Greene (2011-)
Emily Kinney .... Beth Greene (2011-)
Danai Gurira .... Michonne (2012-)
Chad L. Coleman .... Tyreese (2012-)
Sonequa Martin-Green .... Sasha (2012-)
Lawrence Gilliard Jr. .... Bob Stookey (2013-)
Alanna Masterson .... Tara Chambler (2013-)
Scott Wilson .... Hershel Greene (2011-2014)
Laurie Holden .... Andrea (2010-2013)
The Walking Dead Trivia
The Walking Dead TV series is based on the comic books created by writer Robert Kirkman and artist Tony Moore. Moore was replaced as the artist by Charlie Adlard starting with issue #7. It was first published in 2003 by "Image Comics".

Rick Grimes son Carl often wears a t-shirt with a logo on it based on another Robert Kirkman character called "Science Dog". That character has a dog's head with a furry human body. He is a heroic scientist and adventurer who often saves the world from evil forces.

Only ten out of the twenty characters at the camp were in the comics. They are Rick, Lori, Andrea, Carl, Glen, Dale, Shane, Carol, Sophia, Jimmy and Amy.

The storyline of the Walking Dead TV series takes place in issues 1-6 of the comics.

Although it is obviously what they are, the zombies were never called that once in the whole first season. They were called a variety of terms including "Geeks", "Lamebrains", "Roamers", "Test Subjects" (By the CDC [Center for Disease Control]) and "Walkers".

Talk about getting into character! When lunch time came around the set the human cast members ate separately from the zombie cast members!

All of the cast members who play zombies were put through training on how to move and walk as a zombie.

The Walking Dead is the 2nd series on AMC to highlight a Winnebago. The first was "Breaking Bad" although that one is bigger than the one on The Walking Dead.

In the final two episodes of the first season fans met Dr. Edwin Jenner who was a doctor at the CDC. That character is a take-off on "Edward Jenner" who was the real-life developer of the smallpox vaccine. He is commonly referred to as the "Father of Immunology" and since Smallpox was so infectious and had such a high death rate it's generally felt that he saved more lives than anyone else in history.
Episodes List With Original Air Dates
The Walking Dead - Season 1
Days Gone Bye (90 Minutes) (10/31/2010)
Guts (11/7/2010)
Tell It to the Frogs (11/14/2010)
Vatos (11/21/2010)
Wildfire (11/28/2010)
TS-19 (12/5/2010)
The Walking Dead - Season 2
What Lies Ahead (10/16/2011)
Bloodletting (10/23/2011)
Save the Last One (10/30/2011)
Cherokee Rose (11/6/2011)
Chupacabra (11/13/2011)
Secrets (11/20/2011)
Pretty Much Dead Already (11/27/2011)
Nebraska (2/12/2012)
Triggerfinger (2/19/2012)
18 Miles Out (2/26/2012)
Judge, Jury, Executioner (3/4/2012)
Better Angels (3/11/2012)
Beside the Dying Fire (3/18/2012)
The Walking Dead - Season 3
Seed (10/14/2012)
Sick (10/21/2012)
Walk with Me (10/28/2012)
Killer Within (11/4/2012)
Say the Word (11/11/2012)
Hounded (11/18/2012)
When the Dead Come Knocking (11/25/2012)
Made to Suffer (12/2/2012)
The Suicide King (2/10/2013)
Home (2/17/2013)
I Ain't A Judas (2/24/2013)
Clear (3/3/2013)
Arrow on the Doorpost (3/10/2013)
Prey (3/17/2013)
This Sorrowful Life (3/24/2013)
Welcome to the Tombs (3/31/2013)
The Walking Dead - Season 4
30 Days Without an Accident (10/13/2013)
Infected (10/20/2013)
Isolation (10/27/2013)
Indifference (11/3/2013)
Internment (11/10/2013)
Live Bait (11/17/2013)
Dead Weight (11/24/2013)
Too Far Gone (12/1/2013)
After (2/9/2014)
Inmates (2/16/2014)
Claimed (2/23/2014)
Still (3/2/2014)
Alone (3/9/2014)
The Grove (3/16/2014)
Us (3/23/2014)
A (3/30/2014)
The Walking Dead - Season 5
The Walking Dead will return for season five in October of 2014!
Thank you for visiting our The Walking Dead TV Series page!
Copyright © 1997-2014 CrazyAboutTV.com
All rights reserved