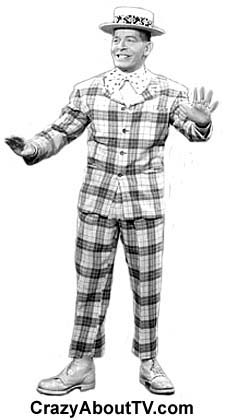 Series Description
The Texaco Star Theater was a variety, comedy series in the grand old tradition of vaudeville as were many of television's earliest programs. The show was on the air from its first episode on June 8, 1948 until its last show on January 6, 1967. The first year, Milton Berle was only one of several rotating hosts on the Texaco Star Theater. When he took over as permanent host in the second year, the show became so popular that sales of television sets went through the roof! In most cases, these sets were the first ones a family owned so, in a way, Milton Berle was largely responsible for taking television from a "futuristic toy" to a common household item! But even more importantly, the huge number of TV sales convinced the worst "naysayers" of the time that television was the future in entertainment and not just a passing fad. Movie actors, producers, directors, etc. began to realise that television was here to stay.

Cast

Milton Berle .... Host
Jimmy Durante .... Host
Milton Frome .... Regular (1953-1955)
Fatso Marco .... Regular (1948-1952)
Bobby Sherwood .... Regular (1952-1953)
Arnold Stang .... Regular (1953-1955)
Ruth Gilbert .... Regular
David Winters .... Jimmy
Dagmar .... Nurse

Texaco Star Theater Trivia

The name of the series changed a few times as the years went on. The Texaco Star Theater was named for Texaco Oil Company. In the 1940s and 1950s, series often had one main sponsor who paid for most of the show's production costs. In 1953, Buick took over as the sponsor and the name of the series was changed to "The Buick-Berle Show". That lasted through the 1955/1956 season. During the 1958/1959 season, Berle hosted essentially the same show under the name of "Milton Berle Starring in the Kraft Music Hall" but by then, audiences were more into westerns, anthology drama series, and detective shows. For the next seven years, Berle kept busy guest-starring on numerous television programs and starring in major motion pictures. Then in 1966, the concept was tried again with, "The Milton Berle Show", which lasted only one season. The most often heard reason for the failure of this program was that it lost out in the ratings to "The Man From U.N.C.L.E. (1964)". While this obviously contributed (U.N.C.L.E. was a huge ratings success), it's also likely that audiences tastes in entertainment had simply changed.

The Texaco Star Theater was so immensely popular that NBC refused to cancel the episode on November 2, 1948 for the election coverage! (Truman vs. Dewey).

Milton Berle won an Emmy in 1950 for Most Outstanding Kinescope Personality and was nominated for another in 1995 for Outstanding Guest Actor in a Drama Series for an appearance on "Beverly Hills, 90210 (1990)". Kinescope refers to the process where a show is recorded on 16mm film.

Actually, the Texaco Star Theater began October 10, 1938 on the radio! The show starred Ed Wynn as "The Fire Chief". That referred to a type of Texaco's gasoline. In 1940, Fred Allen took over the show and remained as host into 1944 when his doctors advised him to quit due to high blood pressure and hypertension problems. There was also a Milton Berle Radio Show that lasted for more than two years from 1947 to 1949!

The Texaco Star Theater won an Emmy in 1950 for "Best Kinescope Show". Kinescope refers to the process of filming a show, typically with a 16mm camera, by pointing the camera at a TV monitor. This system of synchronizing the scan rate of the camera and monitor (to eliminate video rolling) allowed shows that were broadcast live in New York City to air later on the west coast or in areas not connected to the Network feed. Ruth Gilbert was also nominated for an Emmy in 1954 (Buick-Berle Hour) for "Best Series Supporting Actress". She did not win, however, as the award went to Audrey Meadows for her role as Alice Kramden in The Honeymooners segments on the Jackie Gleason Show.

Uncle Miltie started his career as a child actor who worked in vaudeville, silent films, on the stage and in the Ziegfield Follies. His film debut was at age 6 in the 1914 film Tillie's Punctured Romance. Many people are aware of Milton's acting talent in motion pictures and his comedic talents on television but how many know that he also wrote the title song for the 1940 movie, "Li'L Abner"? He also wrote a song for the Jack Benny Program titled, "When You Say 'I Beg Your Pardon'". He was a writer for the series, "Matlock (1986)" and he appeared as Mickey Miller for 1981/1982 season on the daytime drama, "General Hospital"!

In 1983, Milton Berle was also one of the first seven people to be inducted into the TV Hall of Fame!

In a 1928 experimental television broadcast, Milton Berle became the first person ever to appear on television!

Milton was born as Mendel Berlinger on July 12, 1908 in New York, N.Y.

Opening Theme Song

Title: "Texaco Star Theater Theme"

Written By: "Bernard 'Buddy' Arnold" and "Heywood 'Woody' Kling"

Oh, we're the men of Texaco.
We work from Maine to Mexico.
There's nothing like this Texaco of ours

Our show tonight is powerful.
We'll wow you with an hourful,
of howls from a showerful of stars.

We're the merry Texaco-men.
Tonight we may be showmen.
Tomorrow we'll be servicing your cars.

Closing Theme Song

Title: Taken from the 1947 hit tune, "Near You"

Music by "Francis Craig"

Lyrics by "Kermit Goell"

There is just one place for me,
Near you.

It's like heaven for me to be,
Near you.

(Note: The next two lines were a modification of the original lyrics)

Let's make a date
Next Tuesday at 8....

Then usually Milton would say, "Good night ladies and gentlemen!"

Episodes List With Original Air Dates And Guest Stars

(Extremely Partial Listing)

Host: Milton Berle; Guests: Sid Stone, Senor Wences, Pearl Bailey, Rosario and Antonio (6/8/1948)
No Data (6/15/1948)
Host: Milton Berle (6/22/1948)
No Data (6/29/1948)
No Data (7/6/1948)
Host: George Price; Guests: The Acromaniacs, Sandra Barrett (7/13/1948)
No Data (7/20/1948)
Host: George Price (7/27/1948)
Host: Morey Amsterdam (8/3/1948)
No Data (8/10/1948)
Host: Morey Amsterdam; Guests: Willie Howard, Herb Shriner, Sandra Barrett (8/17/1948)
Host: Jack Carter; Guests: Smith and Dale, Cross and Dunn (8/24/1948)
No Data (8/31/1948)
Host: Jack Carter; Guests: Eve Arden, Jack Pearl, Herb Shriner (9/7/1948)
Host: Peter Donald; Guests: Sid Caesar, Willie Howard, The Dewey Sisters (9/14/1948)


From this point on, Milton Berle is the permanent host of the Texaco Theater! Names listed will be for his guest stars only.


Phil Silvers, Evelyn Knight, Smith and Dale, The Four Carters, Park and Clifford, Stan Fisher (9/21/1948)
Garry Moore, Mary McCarty, Joe Phillips (9/28/1948)
Chico Marx (In his TV debut!), Joe Phillips, The Lange Acrobatic Troup, The Slate Brothers (10/5/1948)
Florence Desmond, Joe Phillips, "Slapsie" Maxie Rosenbloom (10/12/1948)
Moe Howard, Larry Fine and Shemp Howard ("The Three Stooges") (10/19/1948)
Sid Caesar, Verna Raymond, Louis Prima (10/26/1948)
Election Night Show (Truman vs. Dewey) (11/2/1948)
No Data (11/9/1948)
No Data (11/16/1948)
No Data (11/23/1948)
No Data (11/30/1948)
No Data (12/7/1948)
James Barton, Lauritz Melchior (12/14/1948)
No Data (12/21/1948)
No Data (12/28/1948)
Jack Carter, Jackie Cooper, Jackie Coogan, Mitzi Green, Benny Fields, Cab Calloway and Patricia Morison (1/4/1949)
No Data (1/11/1948)
Tony Martin, Carmen Miranda, The Margo, Paul and Paulette Trio, Florence Desmond (1/18/1949)
Danny Thomas (5/15/1951)
Boris Karloff (10/9/1951)
Boris Karloff (4/29/1952)
Gene Krupa (5/13/1952)
Boris Karloff (12/16/1952)
The Andrews Sisters (1/27/1953)
Jackie Cooper, Denise Darcel, Vic Damone (10/13/1953)
Ronald Reagan, Gertrude Berg, Dolores Gray (11/13/1953)
Peter Lawford, Carol Channing, Maria Riva (12/8/1953)
Kay Thompson (2/23/1954)
Vivian Vance (5/4/1954)
Ann Sheridan (5/25/1954)
Mickey Rooney, Nancy Walker (9/20/1954)
Eddie Cantor, Groucho Marx, Jimmy Durante, Cyd Charisse, Peggy Lee, Dan Dailey (2/21/1956)
Denise Darcel (3/?/1956)
Elvis Presley (4/3/1956)
Esther Williams, Buddy Rich, Harry James (4/?/1956)
Elvis Presley (5/6/1956)
Zsa Zsa Gabor (7/?/1956)
Find Your Favorite Shows From Our List Of Thousands!
Home Page
1940s
1950s
1960s
1970s
1980s
1990s
2000+
Action
Comedy
Drama
Fantasy/Horror
For Kids
Miniseries
Reality
Sci-Fi
Game Shows
Others
TV on Dvd
Theme Songs
TV Schedule
Spin-Offs
Privacy Policy
Thank you for visiting our Texaco Star Theater page!
Copyright © 1997-Present CrazyAboutTV.com
All rights reserved