TV Show Trivia, Episode
Lists, Descriptions,
& Cast Photos!


Action TV Shows
Comedy TV Shows
Drama TV Shows
Fantasy & Horror
Kids TV Shows
Miniseries
Reality TV Shows
Sci-Fi TV Shows
TV Game Shows
All Others
TV Shows
---

NOTE: Lists compiled by
date 1st episode aired:

40s TV Shows
50s TV Shows
60s TV Shows
70s TV Shows
80s TV Shows
90s TV Shows
2000s TV Shows
---

TV Shows on Dvd
TV Show Theme Songs
TV Trivia
TV Spin-Offs
TV Forums
Privacy Policy
Taxi TV Show
CrazyAboutTV.com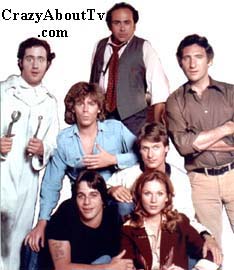 Series Description:
The Taxi TV show was a 30 minute comedy series that aired on ABC for its first four seasons and on NBC for the fifth and final season. It presented a look at the lives of a group of New York City taxi drivers and the nasty dispatcher who tried to rule them. Only one of them was both "well-balanced" and really happy with his "lot in life" as a cabby. The rest of them either dreamed of a better life or were too mentally challenged to care. One wanted to own an art gallery. Another dreamed of being a professional fighter. Then there was the would be actor and another totally fried his brains with drugs. And, of course, there was the Alien "Latka" (Andy Kaufman) who was actually only alien because he was from a foreign land, but is so strange that he could easily have been mistaken for the other type of alien!
Taxi TV Show Cast:
Danny DeVito .............. Louie De Palma
Judd Hirsch ............... Alex Rieger
Tony Danza ................ Tony Banta
Marilu Henner ............. Elaine Nardo
Christopher Lloyd ......... Reverend Jim
Andy Kaufman .............. Latka Gravas
Jeff Conaway .............. Bobby Wheeler
Carol Kane ................ Simka Gravas
Taxi Trivia:
When Danny DeVito was starting out in the business, he had to have a roommate to make ends meet. His roommate was Michael Douglas.

The idea for the Taxi TV show was from an article in an issue of the New Yorker magazine about cab drivers' lives.

Due to almost identical plotlines and storylines, Taxi has often been referred to as a forerunner for the TV series, "Cheers (1982)". Danny DeVito (Louie De Palma) is married to Rhea Perlman (Carla on Cheers).

Did you ever wonder if Judd Hirsch was really that smart or if his character just seemed to be in comparison to the others? Well, in real life, Judd has a college degree in Physics!

Tony Danza's character on the Taxi TV show dreamed of being a professional fighter. In real life, Tony Danza actually was a fighter before becoming a Taxi cast member.

Andy Kaufman loved to confuse his audiences by doing something they would never suspect or couldn't understand. He appeared on the very first episode of "Saturday Night Live". He played a record with the theme song to "Mighty Mouse". He just stood there looking at the audience while it played and would only sing the words, "Here I Come To Save The Day". It was hilarious, but you couldn't figure out why. When he died, people wouldn't believe it. They thought it was just another one of his gags. Oh yeah, he was also Elvis Presley's favorite as an Elvis impersonator.

His role as "Reverend Jim" was not the first time that Christopher Lloyd was seen as a "less than stable" person. In 1975, three years before the Taxi TV show began, he had a role in the movie, "One Flew Over The Cuckoo's Nest" as one of the mental patients. Oh, by the way, Danny DeVito also played one of the mental patients in that movie!

Marilu Henner dated both Tony Danza and Judd Hirsch during the show's run (One at a time).

More than 23 years after the Taxi TV show ended, its theme song would be heard on the Numb3rs TV Show at the end of episode #44 titled, "Blackout". That was a show of endearment for Judd Hirsh (Alex Rieger on Taxi) who also played "Alan Eppes" on Numb3rs!
Episodes List With Original Air Dates
The First Season
1... Like Father, Like Daughter (9/12/1978)
2... One-Punch Banta (9/19/1978)
3... Blind Date (9/26/1978)
4... Bobby's Acting Career (10/3/1978)
5... Come As You Aren't (10/10/1978)
6... The Great Line (10/17/1978)
7... High School Reunion (10/24/1978)
8... Paper Marriage (10/31/1978)
9... Money Troubles (11/14/1978)
10. Men Are Such Beasts (11/21/1978)
11. Memories Of Cab 804 - Part 1 (11/28/1978)
12. Memories Of Cab 804 - Part 2 (12/5/1978)
13. A Full House For Christmas (12/12/1978)
14. Sugar Mama (1/16/1979)
15. Friends (1/30/1979)
16. Louie Sees The Light (2/6/1979)
17. Elaine And The Lame Duck (2/13/1979)
18. Bobby's Big Break (2/20/1979)
19. Mama Gravas (2/27/1979)
20. Alex Tastes Death And Finds A Nice Restaurant (3/6/1979)
21. Hollywood Calling (5/8/1979)
22. Substitute Father (5/15/1979)

The Second Season
23. Louie And The Nice Girl (9/11/1979)
24. Honor Thy Father (9/18/1979)
25. Reverend Jim: A Space Odyssey (9/25/1979)
26. Nardo Loses Her Marbles (10/2/1979)
27. Wherefore Art Thou, Bobby? (10/16/1979)
28. The Lighter Side Of Angela Matusa (10/23/1979)
29. A Woman Between Friends (10/30/1979)
30. The Great Race (11/6/1979)
31. The Apartment (11/13/1979)
32. Alex's Romance (11/20/1979)
33. Latka's Revolting (11/27/1979)
34. Elaine's Secret Admirer (12/4/1979)
35. Louie Meets The Folks (12/11/1979)
36. Jim Gets A Pet (12/18/1979)
37. The Reluctant Fighter (12/25/1979)
38. Tony And Brian (1/8/1980)
39. Guess Who's Coming For Brefnish (1/15/1980)
40. What Price Bobby? (1/22/1980)
41. Shut It Down - Part 1 (1/29/1980)
42. Shut It Down - Part 2 (2/5/1980)
43. Alex Jumps Out Of An Airplane (2/26/1980)
44. Art Work (3/4/1980)
45. Fantasy Borough - Part1 (5/6/1980)
46. Fantasy Borough - Part2 (5/13/1980)

The Third Season
47. Louie's Rival (11/19/1980)
48. Tony's Sister And Jim (11/26/1980)
49. Fathers Of The Bride (12/3/1980)
50. Elaine's Strange Triangle (12/10/1980)
51. Going Home (12/17/1980)
52. The Ten Percent Solution (1/7/1981)
53. The Call Of The Mild (1/21/1981)
54. Latka's Cookies (2/5/1981)
55. Thy Boss's Wife (2/12/1981)
56. The Costume Party (2/19/1981)
57. Elaine's Old Friend (2/26/1981)
58. Out Of Commission (3/12/1981)
59. Zen And The Art Of Cab Driving (3/19/1981)
60. Louie's Mother (3/26/1981)
61. Bobby's Roomate (4/9/1981)
62. Louie Bumps Into An Old Lady (4/16/1981)
63. Bobby And The Critic (4/30/1981)
64. On The Job - Part 1 (5/7/1981)
65. On The Job - Part 2 (5/14/1981)
66. Latka The Playboy (5/21/1981)

The Fourth Season
67. Jim The Psychic (10/8/1981)
68. Vienna Waits (10/15/1981)
69. Mr. Personalities (10/22/1981)
70. Jim Joins The Network (10/29/1981)
71. Louie's Fling (11/5/1981)
72. Like Father, Like Son (11/12/1981)
73. Louie's Mom Remarries (11/19/1981)
74. Fledgling (11/26/1981)
75. Of Mice And Tony (12/10/1981)
76. Louie Goes Too Far (12/17/1981)
77. I Wanna Be Around (1/7/1982)
78. Bobby Doesn't Live Here Anymore (1/14/1982)
79. Nina Loves Alex (1/21/1982)
80. Tony's Lady (1/28/1982)
81. Simka Returns (2/4/1982)
82. Jim And The Kid (2/11/1982)
83. Take My Ex-Wife, Please (2/18/1982)
84. The Unkindest Cut (2/25/1982)
85. Tony's Comeback (3/4/1982)
86. Elegant Iggy (3/18/1982)
87. The Wedding Of Latka And Simka (3/25/1982)
00 88. Cooking For Two (4/8/1982)
89. The Road Not Taken - Part 1 (4/29/1982)
90. The Road Not Taken - Part2 (5/6/1982)

The Fifth Season
91. The Shloogel Show (9/30/1982)
92. Jim's Inheritance (10/7/1982)
93. Alex Goes Off The Wagon (10/14/1982)
94. Scenskees From A Marriage - Part 1 (10/21/1982)
95. Scenskees From A Marriage - Part 2 (10/28/1982)
96. Crime And Punishment (11/4/1982)
97. Alex The Gofer (11/11/1982)
98. Louie's Revenge (11/18/1982)
99. Travels With My Dad (11/25/1982)
100. Elaine And The Monk (12/2/1982)
101. Zena's Honeymoon (12/9/1982)
102. Get Me Through The Holidays (12/16/1982)
103. Louie Moves Uptown (1/22/1983)
104. Alex's Old Buddy (1/29/1983)
105. Sugar Ray Nardo (2/5/1983)
106. A Taxi Celebration (3/23/1983)
107. Alex Gets Burned By An Old Flame (3/30/1983)
108. Louie And The Blind Girl (4/6/1983)
109. Arnie Meets The Kids (4/13/1983)
110. Tony's Baby (4/20/1983)
111. Jim's Mario's (5/18/1983)
112. A Grand Gesture (5/25/1983)
113. Simka's Monthlies (6/15/1983)
Thank you for visiting our Taxi TV show page!
Copyright © 1997-2013 CrazyAboutTV.com
All rights reserved