TV Show Trivia, Episode
Lists, Descriptions,
& Cast Photos!


Action TV Shows
Home
---

NOTE: Lists compiled by
date 1st episode aired:

40s TV Shows
---

TV Shows on Dvd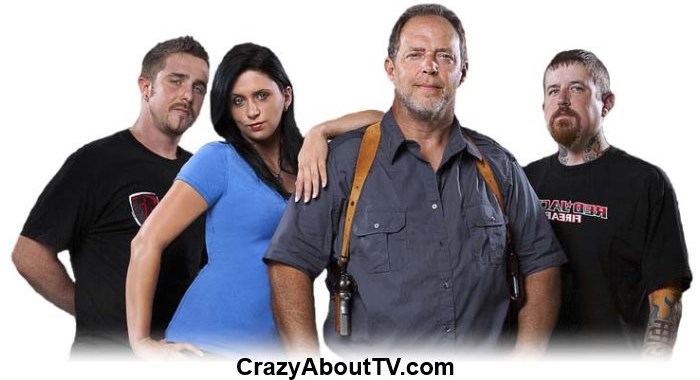 Series Description

Sons of Guns is a 30 minute reality series on the Discovery Channel about an out of the ordinary weapons company called "Red Jacket" that is located in Louisiana and buys, sells, repairs and customizes just about anything that can be called a weapon. Many of the episodes concentrate on military style weapons like rifles, canons and machine guns but everything from knives on up are thrown in for good measure. The personal relationships between the staff at Red Jacket is also a common theme.
Sons of Guns Cast
William Hayden .......................... Founder of RedJacket Firearms
Stephanie Ford .......................... Office Manager and Will Hayden's daughter
Kris Ford ............................... Production Manager and Stephanie's husband
Joe Meaux ............................... Chief Operating Officer and Chief Machinist and Webmaster
Charlie Watson .......................... Forensic Firearms Expert and Marketing Manager
Glenn "Flem" Fleming .................... Shop Welder
Christopher Michael "Mikey" Wallace ..... Shop Mechanic

In addition to their role listed above, all of the staff members work as gunsmiths.
Sons of Guns Trivia
Several other shows on television about weapons have felt the need to go on and on about how they can be used for evil but Sons of Guns doesn't play that game. The only thing they've said that can be considered a warning is, "Guns can be dangerous. Don't be an idiot".

In 2009, according to a report by TMZ, a routine inspection by the ATF found that 10 guns registered to Red Jacket could not be accounted for. In an article by WBRZ-TV in Baton Rouge, Louisiana, Red Jacket's Lawyer stated that one or two of them had been stolen and the others were thrown away when gunsmiths made mistakes while working on them. The proper paperwork was not done however so William and Stephanie Hayden had to surrender their gun-making licenses and appoint someone else to run Red Jacket for them.

On the 10th anniversary of the September 11, 2001 terrorist attacks a Sons of Guns crew member made a really stupid mistake. He parked a rental truck full of automatic weapons and bomb-like materials in front of the Dallas/Fort Worth airport and some witnesses say he left it unattended! Of course, the authorities were on high alert that day. When someone asked him what was in the truck he responded, "I got a couple of Guns". When authorities saw the first automatic weapon, a bomb squad and explosive-sniffing dogs were brought in. A portion of terminal B was shut down for several hours while the FBI investigated. An executive of the production company said it was, "a simple yet colossal error in judgement by a member of our staff".

On the ninth episode of season one, the Sons of Guns staff did a prop gun project for an upcoming 2012 movie titled, "The Courier". Kris Ford was lucky enough to be invited to make an appearance in that film!

The Red Jacket crew also appeared on the second season episode of "American Chopper: Senior vs. Junior" titled, "Big Guns" where they helped with the design of a dragon-themed machine gun style motorcycle.
Episodes List With Original Air Dates
Season 1
Civil War Cannon/Shotgun Silencer (1/26/2011)
Master Key (1/26/2011)
The Flamethrower (2/2/2011)
Browning Machine Gun/Stephanie's Big Bet (2/2/2011)
Coffee Grinder Gun/Katana (2/9/2011)
AK-47 Silencer (2/9/2011)
The Bazooka (2/16/2011)
Tommy Gun/Machete (2/16/2011)
Movie Gun/Leopard Gun (2/23/2011)
Remote Control Machine Gun (2/23/2011)
ATV Gun/Help Wanted at Red Jacket (3/2/2011)
Machine Gun Mania/The New Guy (3/2/2011)
The Rocket Launcher (3/9/2011)
Alligator Kill Stick (3/16/2011)
Double M16 (3/23/2011)
Folding Flashlight Gun (3/30/2011)
Season 2
Anniversary Bash (7/13/2011)
AK/Sniper Rifle (7/20/2011)
American Chopper Gun (7/27/2011)
The Meat Chopper (8/10/2011)
Grenade Launcher Silencer (8/17/2011)
Flying Guns and Uzis (8/24/2011)
The Taser Shotgun (8/31/2011)
The Gatling Gun/Dueling Pistols (9/7/2011)
Oh My God, A Cannon! (9/14/2011)
Guns of Glory (11/24/2011)
Will's Floating Fortress (12/7/2011)
Honey, I Blew Up the USS Kidd! (12/14/2011)
Flamethrower Cannon (12/21/2011)
Boys and Their Maxim Toys (12/28/2011)
The Hogzilla Gun (1/4/2012)
Mortars and Mayhem (1/11/2012)
Wedlock & Load (1/18/2012)
Season 3
This Time It's Personal (2/29/2012)
Sniper Rifle Silencer (3/7/2012)
Kamikaze Cannon (3/14/2012)
Behind the Scenes Special (3/21/2012)
Jesse James Gun (3/28/2012)
Worlds Largest Machine Gun (4/4/2012)
Armored and Dangerous (4/11/2012)
Zombie Gun! (4/18/2012)
Total Recall Vector Submachine Gun (7/25/2012)
The Gun that Killed Osama (9/12/2012)
Three Cannons and a Rock Star (9/19/2012)
Red Jacket Snow Blaster (9/26/2012)
Red Jacket Challenges Mythbusters (10/3/2012)
Shotgun Superstars vs. Red Jacket (10/10/2012)
Nine Guns and a Shootout (10/17/2012)
Free Fall Shotgun (10/24/2012)
Season 4
Under Siege (4/19/2013)
Hangfire (4/26/2013)
Will's Monster (5/3/2013)
Russian Roulette (5/10/2013)
Cutbacks (5/17/2013)
One Man Army (5/24/2013)
Misfire (5/31/2013)
Last Round (6/7/2013)
Season 5
Sons of Guns: Loaded Up (Special) (3/21/2014)
Will Power (3/21/2014)
Mobile MAG-58 (3/28/2014)
Steel Tornado (4/4/2014)
Scorpion Strikes (4/11/2014)
Master Blaster (4/18/2014)
The Throwdown (4/25/2014)
Bone-dry .50 Cal (5/2/2014)
Red Jacket Reloaded (60 Minutes) (5/9/2014)
Red Jacket Rises (5/16/2014)
Sons of Guns Specials
Loaded Up (3/21/2014)
Sons of Guns Locked and Loaded: Master Blaster (4/25/2014)
Thank you for visiting our Sons of Guns page!
Copyright © 1997-2018 CrazyAboutTV.com
All rights reserved